Goldfrapp, Symphony Hall, Birmingham |

reviews, news & interviews
Goldfrapp, Symphony Hall, Birmingham
Goldfrapp, Symphony Hall, Birmingham
Folktronic-heavy set from Bristol's veteran electro-poppers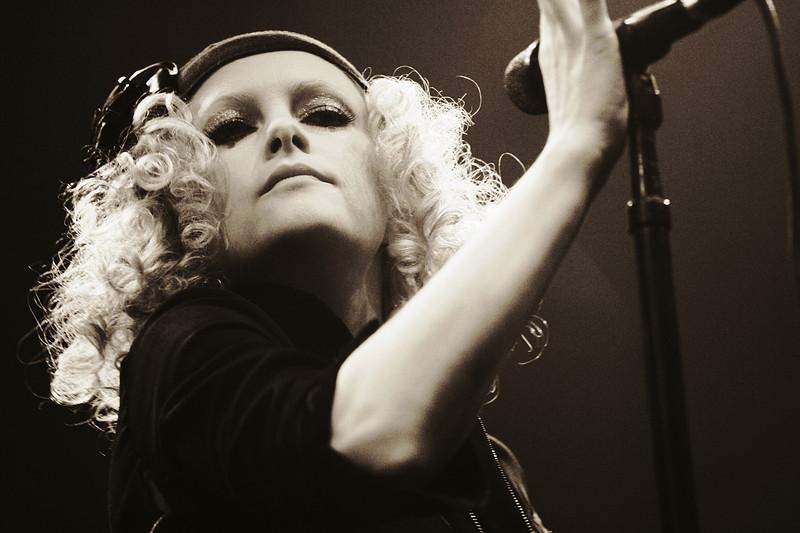 Alison Goldfrapp
Goldfrapp have already toured new album, Tales of Us, having hit the road in the UK and Europe last autumn.
However, they are back for some more and on the first date of the spring leg of their live shows, Alison Goldfrapp and her five-strong backing band take to the stage at Birmingham's Symphony Hall as the spoken introduction to
Peter and the Wolf
fades out with "Are you comfortable? Then let us begin." Gone, it seems, are the clown, Marlene Dietrich and military kitsch of previous tours, as the tastefully black-clad group opened with "Jo" and slipped straight into the magic realism-infused atmosphere of the new album. Something that was driven home by the dark, forest-like backdrop behind the drum kit.
Singer Alison Goldfrapp looked somewhat nervous at first, making a joke of "Is there something you can take for nerves? Maybe I should start taking drugs. After all, you're never too old to start!" with tongue firmly in cheek. However, tunes like "Drew" "Alvar" and "Annabel" still managed to enthral with their whoozy, breathy vocals floating above a folktronic backing with orchestral flourishes. "Little Bird", from 2008's Seventh Tree album, took the almost electro-hippy groove one step further, as the band jammed into spacey, early Pink Floyd territory, while Alison wandered off the stage for a breather. When she returned, the mellow vibe was pushed to one side and the band broke into the harsher electronic sound of "You Never Know" and the electro-pop of "Number 1" from 2005's Grammy-nominated Supernature album.
With the crowd finally in their feet, the band struck up "Thea", from Tales of Us - not one of their most energetic tunes. Still, the packed house stuck with it and they were rewarded with the glam stomp of "Ride a White Horse" (after a false start explained by "There was something wrong. It was me!") and Goldfrapp's signature tune, "Ooh La La", as well as the chance to shake a leg.
After a short break, Goldfrapp returned to encore with the luscious "Utopia", with its Enrico Morricone-esque textures, and "Lovely Head" - a couple of tunes from 2000's trip-hop inspired, debut album Felt Mountain. However, the sophisticated cool was again banished for an electro thumping finale of "Train" and "Strict Machine" from 2003's breakthrough album, Black Cherry.
Tonight, Goldfrapp played a set that was very heavy on the downtempo and almost wistful new album, Tales of Us, as you might expect. However, by leaving their more lively material to the end, rather than peppering the set with more swinging tunes, it created a gig "of two halves" rather than a show that flowed naturally. Nevertheless, if you fancy an evening of sophisticated grooves that never noodle, Goldfrapp are well-worth the entrance fee.