Hofesh Shechter/ Sidi Larbi Cherkaoui, Puz/zle, Sadler's Wells |

reviews, news & interviews
Hofesh Shechter/ Sidi Larbi Cherkaoui, Puz/zle, Sadler's Wells
Hofesh Shechter/ Sidi Larbi Cherkaoui, Puz/zle, Sadler's Wells
Two big contemporary dance names - one pleases himself, the other pleases his sponsors
Shechter's Uprising: the tension of waiting for the next gunfire.
I was trying to remember the last time a choreographer actually tried to make the audience smile in the past few months. Dance-lovers are suckers for guilt.
They creep into the dark of their seat to be regaled by their share of the blame for the world's wrongs, and creep home chastened, if not fully corrected (
Rosas
, Kylián,
Schaufuss
). Or else they are beaten about the head with the choreographer's own personal shtick (Bausch,
MacMillan
,
Petit
). I know which I prefer.
No venue is more a secular church for expiation than Sadler's Wells, London's dance theatre. Last week it hosted two of the big names of contemporary dance theatre, Sidi Larbi Cherkaoui and Hofesh Shechter. Both were set on atoning for sins, and for psycho-socio-political baggage potential they're equally matched - Cherkaoui, half Belgian, half Moroccan, and Shechter, Israeli but London-based. They also share an earthy street-style of dance that's heavy on the feet and draws on breakdance for its acrobatic dynamics.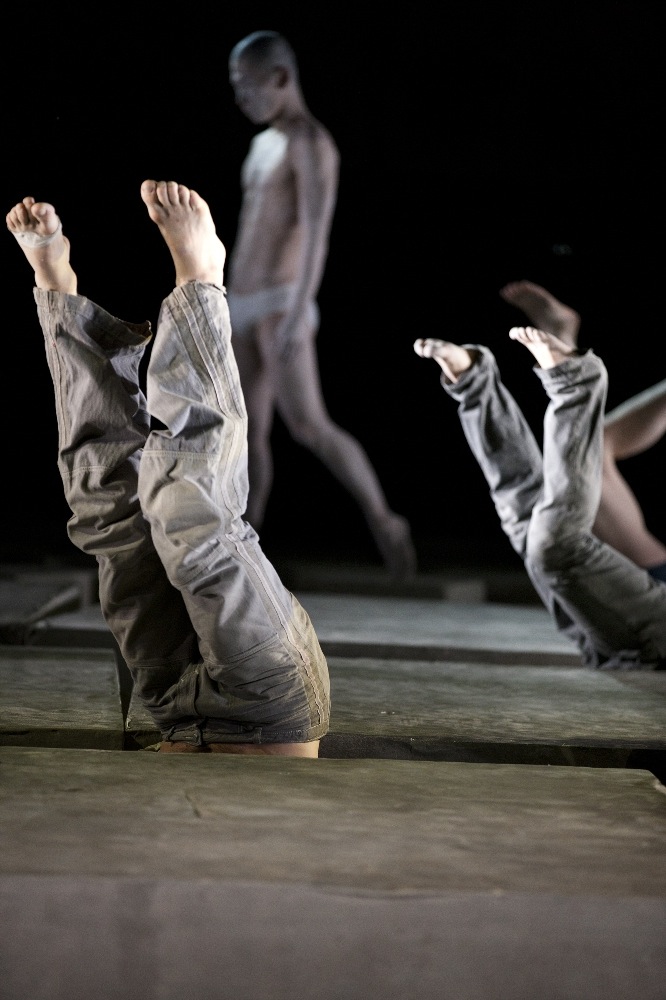 But no contest in result: Shechter's vigour and personal idiosyncrasy were simply more enjoyable than the over-righteous mourning of Cherkaoui, who has done much better work than Puz/zle, his newest creation. (And my four stars are for Shechter.)
Puz/zle originated in a French quarry last year, hence its set of huge slabs and piles of stones, and it attempts to deconstruct the puzzle of human nature with large effects of ant-people and eternal building blocks (pictured above right). From among the ant-people rises the characterful male singing of the Corsican a cappella group A Filetta, further decorated by a honeyed Lebanese alto with luscious hair and a nervy Japanese taiko drummer who also tootles flutes. The flautist is a knowing Puck, luring dancers out of the ant-heap in boneless tumbling solos that seem to be buffeted by the flute-player's breath.
The live music is beguiling. Distinctively less so the dance performance which for nearly two hours circles around the insoluble matter of universal culpability with visual plays on the wrongs of ancester-worship, stoning dissidents, and the malleability of people when driven by authority. The more sponsors there are, the more generic a work, and this one has to please co-commissioners in London, Antwerp, Avignon, Lille, Luxemburg, Mulhouse, Sankt-Pölten, Rome and Düsseldorf. Fishing policies have had fewer people to keep happy than this piece of dance.
Black-clad dancers swarm over the slabs, reminding one of news pictures from Dhaka at the moment which somewhat trump this as a demonstration of the puzzle of human nature. They build temples, then pull them down and start again. They chain in undulating squiggles that turn 11 dancers into a human millipede. Their docile impersonality contrasts with the heady perfume of Fadia Tomb El-Hage's siren voice and A Filetta's spicy Levantine medievalism.
There's a neat scene where dancers are "sculpted" into life by a sculptor's hammer (conjured by the artist-qua-politician, ah so). But how much more grippingly visionary and singular was the idea in Cherkaoui's 2009 Apocrifu, focusing on holy books and religious traditions, so much more human and providing some ecstastic imagery. There's nothing to exhilarate or surprise in this long-winded dance sermon, and it's that which Shechter did show when he took his turn at Sadler's Wells a few days later.
The Israeli is equally distraught in his double bill over the weekend reviving two past works, one for men, one for women, but here it feels personal, we're seeing into Shechter's states of mind. Uprising, his breakthrough piece from 2006, starts with a terrific, melodramatic bang and black-out, and the crouching energy of the seven men's very fast running movement keeps up a taut tension. The suspense has something of the unpredictability of waiting for the next gunfire. It is studded with pauses, almost immobile, watchful times as the gang seem to halt for orders, disengage, slacken - while you hold your breath waiting for the next sortie.
The sorties are exactly organised, little cells of men breaking off - two run here, three over there, they meld swiftly into five. Breakdancing is a visible influence on their tumbling rise and fall (as, perhaps, is Martha Graham? Shechter began in Batsheva, the Israeli company founded by Graham) but you also imagine they're keeping low so as not to be picked off by a sniper somewhere.
Shechter is as much a composer as choreographer and has a cunningly theatrical ear for what will shock and discombobulate us. His music is deafeningly percussive, packing the air with remorseless scratch rhythms, slashes, whooshes and other aurally intriguing thuds that sometimes seem actually to agitate the dancers too.
It's tense, exhilarating, darkly playful - it's a barrel of laughs compared to the girls' one. The Art of Not Looking Back operates to much more painful, experimental visceral effect. An initial male voiceover steers us into the mind of a man abandoned by his mother aged two, and almost comically bloodcurdling screams shatter our ears. Six strong girls in brown gibber like crazy people, mothers on the edge of a nervous breakdown. (Pictured above and left by Dee Conway)
The stop-start idiom of Uprising recurs here - order and chaos alternate, the women mooch about listlessly or cohere in a careful ballet class drill. Sometimes the stage is cool, white, the floor gridded in perfect regularity, at other times it's red like blood (bravura lighting by Lee Curran). Angelic fragments of Bach's double violin concerto flounder in a sea of horrible noises.
The six women are wholeheartedly strong and watchable, their choreography seems to explore frayed edges and irresolution, rather than firing dynamic missiles of movement like the boys' one. In the messiness the constant return to ballet barre seems almost a psychological prop, a need for the comfort of known things, which could apply to either mother or child.
I found it absorbing, affecting, and exhilarating - another demonstration of Shechter's exceptionally focused and assertive theatrical talent. Don't miss the return of his 2011 Political Mother in July.
Watch A Filetta sing a short traditional Corsican Paghjella
Vigour and personal idiosyncrasy are simply more enjoyable than over-righteous mourning
rating
Explore topics
Share this article