Them Crooked Vultures, Corn Exchange, Edinburgh |

reviews, news & interviews
Them Crooked Vultures, Corn Exchange, Edinburgh
Them Crooked Vultures, Corn Exchange, Edinburgh
The supergroup impress on its debut album tour
Wednesday, 16 December 2009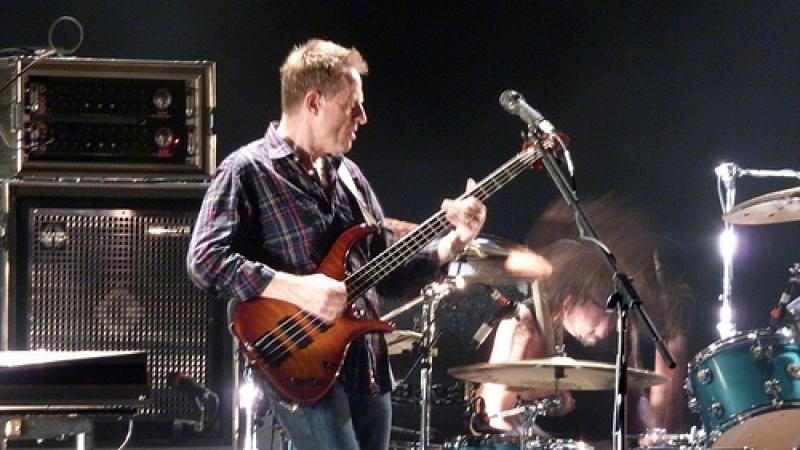 Jones and Grohl: 'weird kinks and unsettling twists threaded their way through the mighty slab of sound'
From the moment the roadies began assembling Dave Grohl's drum-kit in a manner that resembled the construction of the Queen Mary on Clydeside, it was clear that power was going to be the watchword of last night's Edinburgh appearance by Them Crooked Vultures, the supergroup that's threatening to give the term a good name.
Foo Fighter Grohl, former Led Zeppelin bassist John Paul Jones and Queens of the Stone Age singer and guitarist Josh Homme have just released a surprisingly decent debut album, but at times they sound constrained on record. Rooted in lengthy jams that unleash great spiralling grooves and rhythmic waves of sound, if it wasn't already obvious that their songs were custom-built to be performed live, last night the evidence proved emphatic.
Lacking any other songs, they were forced to play the entire album, which is patchy in places and certainly over-long
They opened, as on the album, with "No One Loves Me". All drums and riff, it didn't so much end as shatter. A towering GM front man with a deceptively versatile voice, Homme was an engaging point of contact throughout, but it was immediately clear that Grohl and Jones drive this band. The contrast in their demeanours was endlessly entertaining. Jones was solid and unrelenting, the power internalised and fed directly into his thundering bass lines; Grohl, by contrast, was a wild blur of hair and limbs, flailing away like Captain Caveman. Just as "Caligulove" was threatening to wind down he slammed into the same explosive pattern that once announced the chorus to "Smells Like Teen Spirit", and it became thrillingly evident that the one-time Nirvana drummer is still at his most effective leading from the back.
The Corn Exchange is the capital's most abject venue, boasting all the warmth and natural ambience of a meat-packing warehouse, and it was to the band's credit that they managed to cut through the shivers and acoustic sludge to deliver something beyond sheer clatter. Insisting on singing rather than shouting, Homme skilfully sought out the nuances in the melodies. "Scumbag Blues" - a homage to Cream, and that's being generous - showed off his falsetto to fine affect, while his sly, Bowie-esque hiccup emphasised the nagging catchiness of "Dead End Friends" and "Gunman".
"We're not in grandma's house now," the singer announced at one point in an attempt to chivvy us into some "hot and sticky" misbehaviour, before slinking playfully around stage during "Interludes With Ludes". One of the album's weaker links, live the song was transformed into a queasy little electronic rumba which brutally exposed the group's dearth of consistently top-notch material. Lacking any other songs, they were forced to play the entire album, which is patchy in places and certainly over-long. Inevitably, the set dipped in the middle, padded out with instrumental noodling and a solo interlude on guitar by fourth Vulture Alain Johannes.
But although there were periods when the mind slipped off to address other matters (such as, who built this place?), during the many high points the band's moniker seemed especially apt. On "Spinning In The Daffodils" and "Warsaw" the air above seemed to darken with raptors as weird kinks and unsettling twists threaded their way through the mighty slab of sound. At such moments, resistance to Them Crooked Vultures was not only futile, but downright impossible.