Inception |

reviews, news & interviews
Inception
Inception
Dreams are not made of this: Christopher Nolan has too much money
'Inception' will have your head spinning
Inception is as lucid and heartfelt as summer blockbusters get these days. It is a rigorously built action spectacle about the persistence of memories and ideas, with an intelligent, committed cast led by Leonardo DiCaprio.
It returns writer-director Christopher Nolan to the themes of his already classic, low-budget breakthrough
Memento
(2000), except that, after making
The Dark Knight
, he has at his beck and call every resource of Hollywood, Orson Welles's "best train set a boy could have" – to the extent that an actual train is slalomed down an LA street.
For a film set largely inside people's dreams, though, it is disappointingly prosaic. DiCaprio stars as Cobb, an industrial spy who, through wisely unexplained dream-sharing technology, steals ideas from corporate employees' dreams. He also has a sad secret keeping him from returning to America, and his children. This is gradually revealed to be the death of his wife (Marion Cotillard), after years spent together literally living their dream, in circumstances that leave him heavy with guilt. The nature of her death and his guilt, even specific shots of their children running out of sight, recall Memento and its hero's shattered, looping memories.
But Inception is a more conventional narrative than that film or Nolan's other teasing jigsaw tale, The Prestige. Here, Cobb's chance for redemption comes when he gathers his team of crack dream-burglars (including Ellen Page and Joseph Gordon-Levitt) to reverse their usual policy and put an idea into the head of a corporate heir (Cillian Murphy), during his drugged sleep. But it turns out "his subconscious is militarised" when they enter it, booby-trapped with virtual gunmen to protect his industrial imagination. More dangerous still is the shade of Cobb's ex-wife, still in the "prison of memory" where he locked her, and eager to trap him in the dreams where he's taken his crew.
Inception disappoints in what it's not. It offers neither the queasy disorientation of Cronenberg's Videodrome, nor the seedy deviance of Kathryn Bigelow's prescient virtual reality thriller, Strange Days. Both were truly hallucinatory experiences, where I left the cinema feeling my mind had been rewired. Nolan instead decided that, because dreams feel real when you're in them, scenes set in the imagination should be solidly concrete. The only truly jaw-dropping moment is when a Paris street rises and folds over itself, looming like an urban tidal wave. Otherwise, dreams amount to action scenes referencing other movies – Mission: Impossible, The Matrix, and the swirling snow-bound gun-battles of On Her Majesty's Secret Service. Just as CGI means Hollywood is more blatantly unreal than ever before, Nolan has insisted on physical effects on vast sets to simulate the imagination. On the one hand, this is daringly perverse. On the other, it seems unlikely Nolan is a visionary who could find us freaky new dimensions.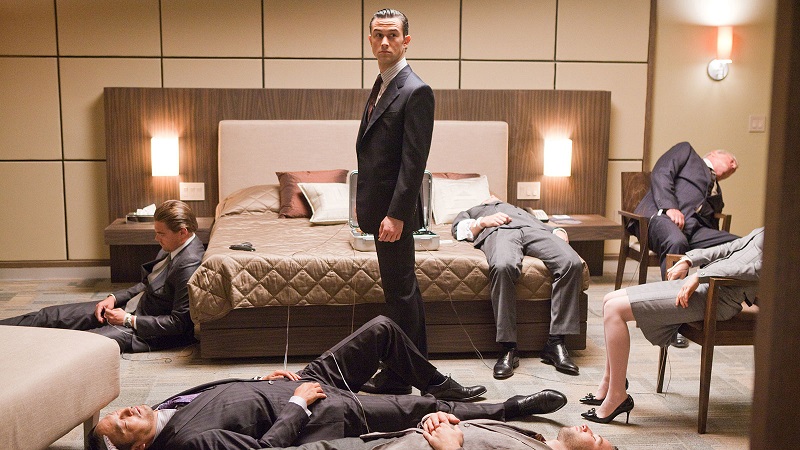 The film also avoids the emotional sledgehammer of Eternal Sunshine of the Spotless Mind in dealing with Cobb's loss, felt in "moments that I regret, memories that I have to change". The idea that he can meet his wife in deliberate dreams, and she won't truly be dead while he can, is inherently moving and true. DiCaprio and Cotillard commit to this haunted romance, with the former going deeper into a version of his character in Shutter Island. But Nolan's intelligent control never slackens, and the audience's feelings are never dragged from the "raw subconscious" mentioned in his script.
Clues suggest Cobb's reality and dreams may be slippery, even inverted – the corporation hunting him is the similarly named Cobalt, and a final image of a spinning top nags ambiguously, like Blade Runner's origami unicorn. But Nolan is largely happy to leave us with a more conventional resolution. Hans Zimmer's tremendous score, whose swelling synth-bass and brass (plus Johnny Marr's guitar) bleed into the sound, meanwhile creates its own layer of yearning.
Inception is never bloated or brain-dead, like its summer rivals. But Nolan doesn't use his train set brilliantly enough for you not to think Memento's leanness of budget and script might be usefully returned to soon.
Nolan decided that, because dreams feel real when you're in them, scenes set in the imagination should be solidly concrete
Explore topics
Share this article