Hofesh Shechter's Political Mother, Sadler's Wells |

reviews, news & interviews
Hofesh Shechter's Political Mother, Sadler's Wells
Hofesh Shechter's Political Mother, Sadler's Wells
An assault on ears, eyes and nerves by a stunning piece of dance-theatre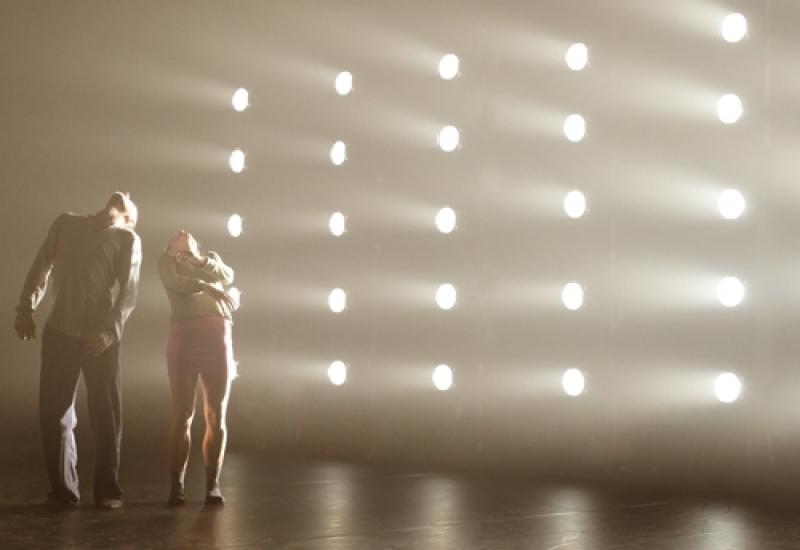 'Political Mother': Very occasionally, a piece has its own imperative and you know why theatre had to exist
In the middle of the pulverisingly loud and utterly thrilling experience that is Hofesh Shechter's new production Political Mother, I wished suddenly that all dancers could come and see this piece, see what clarion theatre dance can be.
If the theatrical thread often thins almost to vanishing point in some of the more mediocre ballet productions that turn up, this work is a positive rope of theatricality, thick, hard, massive, a slab of incredibly loud music and incredibly fierce, reflective emotion.
Shechter is an Israeli Londoner, both choreographer and composer - choreographer, that is, in a very vernacular, earthy style that's almost non-dance, and composer of vast electric guitar riffs and massy drums, and he probably can't think of one activity without the other. I'm sure too that he must have masterminded the lighting, with its cavernous darkness and almost horror-video tricks with light, all to generate maximum visceral effects for his theme, which is heartfelt.
Political Mother collides an impersonal, cold, manipulative adjective against a soft, warm, nurturing noun, and I'm guessing the piece is intended to comment acridly upon the ambiguous motherhood of his country, where young men like Shechter are obliged to take on national service for a war whose virtues is now hard to see.
This is dance-theatre that you feel could cause riots, atavistic and demotic in its passion, and very thorough in the destabilising effect upon one's senses of such explosively pitched rock music. The set-up is, I suppose, Us and Them, the people vs authority, but the nature of the authority and of the people shifts around, and the situations sometimes offer different questions.
It opens with something so spare and horrible that one instantly feels in powerful theatrical hands - the intensely mournful murmur of the opening of Verdi's Requiem threads through the darkness, while in the half-dark a crusader knight slaughters himself. Blackout. Then bang - hard rock guitars and military drums burst deafeningly out of the darkness and two modern men in shirts and trousers perform a folkdance with an edge of hysteria to it, very Jewish, very brotherly, and as edgy as razor blades. An orator screams inaudibly from on high while no one is listening. The ensemble are either prisoners in anaesthetising darkness and noise one moment, or crowds in the street doing fast, happy step-hop to the music another.
One doesn't want to give away, really, the shocks and coups, because the vignettes are so cleverly mounted to contrast or add layers of possibilities to each group (are they Israeli or Palestinian prisoners? does it matter? are the crowds pleading for their sanity in front of the music/noise/tyranny or surrendering in delight to it? why does the body language of agony look so like the body language of excitement?) and the lighting and sound are so successfully manipulative of what you perceive and what you feel. I am certainly persuaded by this piece that music can destroy people, not just their hearing but their nervous coordination. There is a man in a blue shirt who at one point just stands on his own jibbering, silently screaming, as if desperate to be left to be, on his own terms.
The theatre is miked up - and of course constructed - to act like a giant soundbox. The ultimate gods of the set-up are the five guitarists held on high, glorified by sun-bursts of light and their own flamboyance, the only individualists permitted. You feel the deepest guitar vibrations right through your seat, and you should probably not buy tickets in the front stalls at either side by the vast speakers unless you can stand painful decibels, which several people could not.
Sometimes the sound plug is just pulled. Silence rushes in, while your head rings. Occasionally the stage is cleared and Bach quietly recivilises the place. The piece is a bit over an hour long, and there is near the end, very unexpectedly, a little joke. It seems to end with a fast-rewind back to the opening crusader, his fatal movement being undone - as if in dance you can undo what in life you can't.
Last night was the second time I've seen it, and I felt not the slightest reduction in my involvement with it. Very occasionally, pieces have their own vibrant imperative, and you know why theatre had to exist. Credit for lighting and sound to Lee Curran, Peter McCabe, Mike Midali and Tony Birch, but the genius of the piece is Shechter.
Political Mother is at Sadler's Wells until Saturday, then tours to Galway, Ireland, 20-24 July, Hamburg, Lyon and Paris in the summer. Its autumn UK tour begins at South Hill Park, Bracknell, 28 September, then goes to the Sheffield Lyceum, Warwick Arts Centre, Nottingham Playhouse and Truro's Hall for Cornwall
This is dance-theatre that you feel could cause riots, very thorough in the destabilising effect upon one's senses of such explosively pitched rock music.
Share this article