theartsdesk on Vinyl 68: Patrik Fitzgerald, Oasis, Kathryn Williams, R E M , Bess Atwell and a seasonal load more |

reviews, news & interviews
theartsdesk on Vinyl 68: Patrik Fitzgerald, Oasis, Kathryn Williams, R.E.M., Bess Atwell and a seasonal load more
theartsdesk on Vinyl 68: Patrik Fitzgerald, Oasis, Kathryn Williams, R.E.M., Bess Atwell and a seasonal load more
Winter holiday edition of the most wide-ranging regular record reviews on Earth
Tuesday, 14 December 2021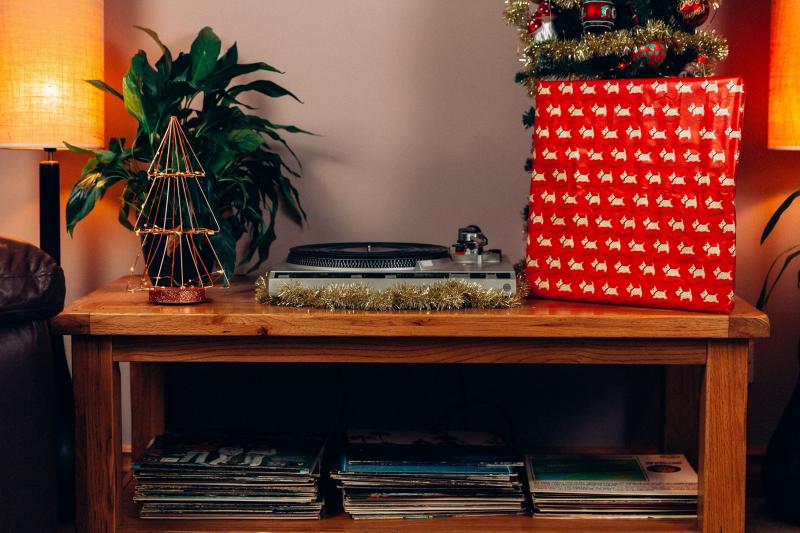 Rockin' around the Christmas tree
As we ride towards the holiday break on our magic reindeer, it's time for one last theartsdesk on Vinyl, a seasonal special that, if you scroll down, contains all the usual up-to-date music reviews but, before that, takes a look at Yuletide-themed releases, reissues and heritage fare that might make great presents. As ever, all musical life newly pressed to plastic is here. Dive in.
VINYL OF THE FESTIVE SEASON
Patrik Fitzgerald featuring Lemur No Santa Clauses (Crispin Glover)
This year's VINYL OF THE FESTIVE SEASON top pick is by long lost new wave troubadour Patrik Fitzgerald. It's only his tenth single since "Safety Pin in My Heart", his debut, over four decades ago. In an alternative universe, his poetic combination of lyrical punk-poet pith and an acoustic guitar would have seen him given regard parallel to that awarded John Cooper Clarke but, instead, he became a cult name, beloved of only those who know. Here, his nasal voice initially plays off against children's TV theme-style plucked strings and woodwind (by Norwegian ensemble Lemur) in an odd time signature, ebullient yet sinister, then a grinding guitar arrives with the chorus; "No Santa Clauses will come down the chimney this year/Only the spirits of the children who died up there sweeping them so many years ago." As a dark allegory on differentiation between rich and poor at Christmas, it's bang on for 2021 but also has a playful feel, like a Victorian cautionary poem. The flipside "With Her Head Underneath Her Arm" is a Thirties music hall song about Anne Boleyn which, lightly strummed, has been given a TV Personalities vibe. It's another cracker albeit more Halloween than Christmas. Good to have Fitzgerald back. I can't wait to hear more.
Blondie featuring Fab 5 Freddy Yuletide Throwdown (Universal)
Smashingly garish, this 12" on fluoro pink vinyl, in graf cartoon die-cut outer and inner sleeves, is also an enjoyable seasonal curio. Originally available as a flexi in 1981 on the cover of Smash Hits short-lived competitor, Flexi-Pop magazine, it sees hip hop originator Fab 5 Freddy trading verses with Debbie Harry on what is, essentially, a prototype version of Blondie's global hit (and US chart-topper) "Rapture". The fact this is a pre-"Rapture" experiment rather than a post-release mash-up somehow makes it all the more fascinating. It bubbles with an eager, carefree Seventies-turning-to-Eighties New York energy, more focused on vibe than precision, resulting in a Christmas cracker. The main mix is a cleaned-up and decent Cut Chemist remix but I prefer the raw frolic of the original. There's also a Cut Chemist Radio Edit.
Kathryn Williams & Carol Ann Duffy Midnight Chorus (One Little Independent) + Hiss Golden Messenger O Come All Ye Faithful (Merge)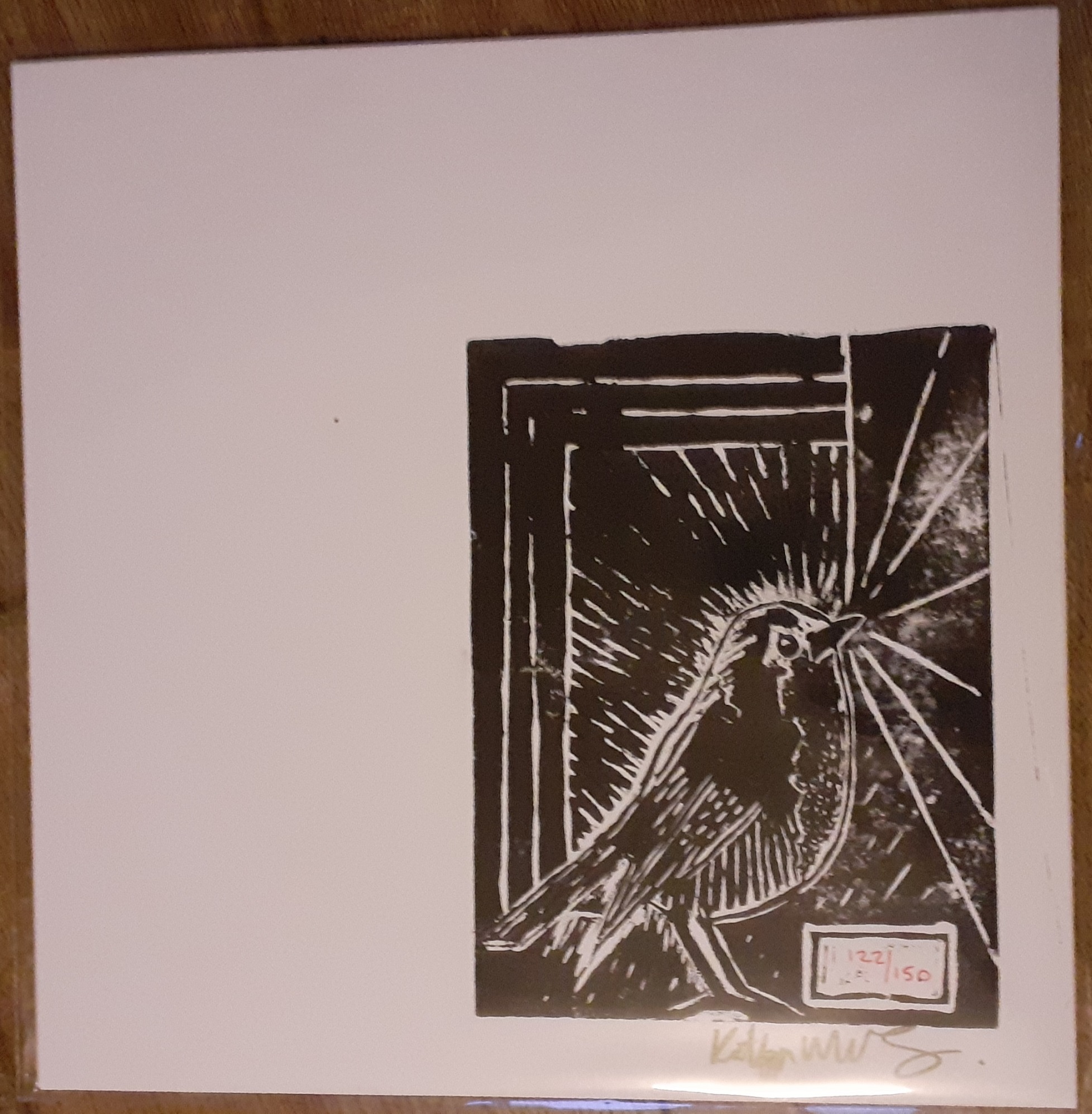 These two are given reviews elsewhere on theartsdesk as our Disc of the Day, but they still deserve vinyl attention. Kathryn Williams has one of the loveliest voices in popular music and its poignancy is completely suited to Christmas material. Co-writing with the poet Carol Ann Duffy, who adds a literary chewiness, as well musical input from Magic Number Michele Stodart, singer-songwriter Polly Paulusma and composer Astrid Williamson, it's a set that twinkles and lifts the spirit, lightly sprinkled with longing (that comes over especially in the Dolly Parton-centric "Dear Lord"). It's reviewed more fully by Joe Muggs here, but is essentially sweet acoustic guitar pop, plumped up with lush strings and instrumentation, and it arrives on vinyl in a limited edition of 150 with an original black'n'white paint-print of a robin by Williams on the cover. A treat.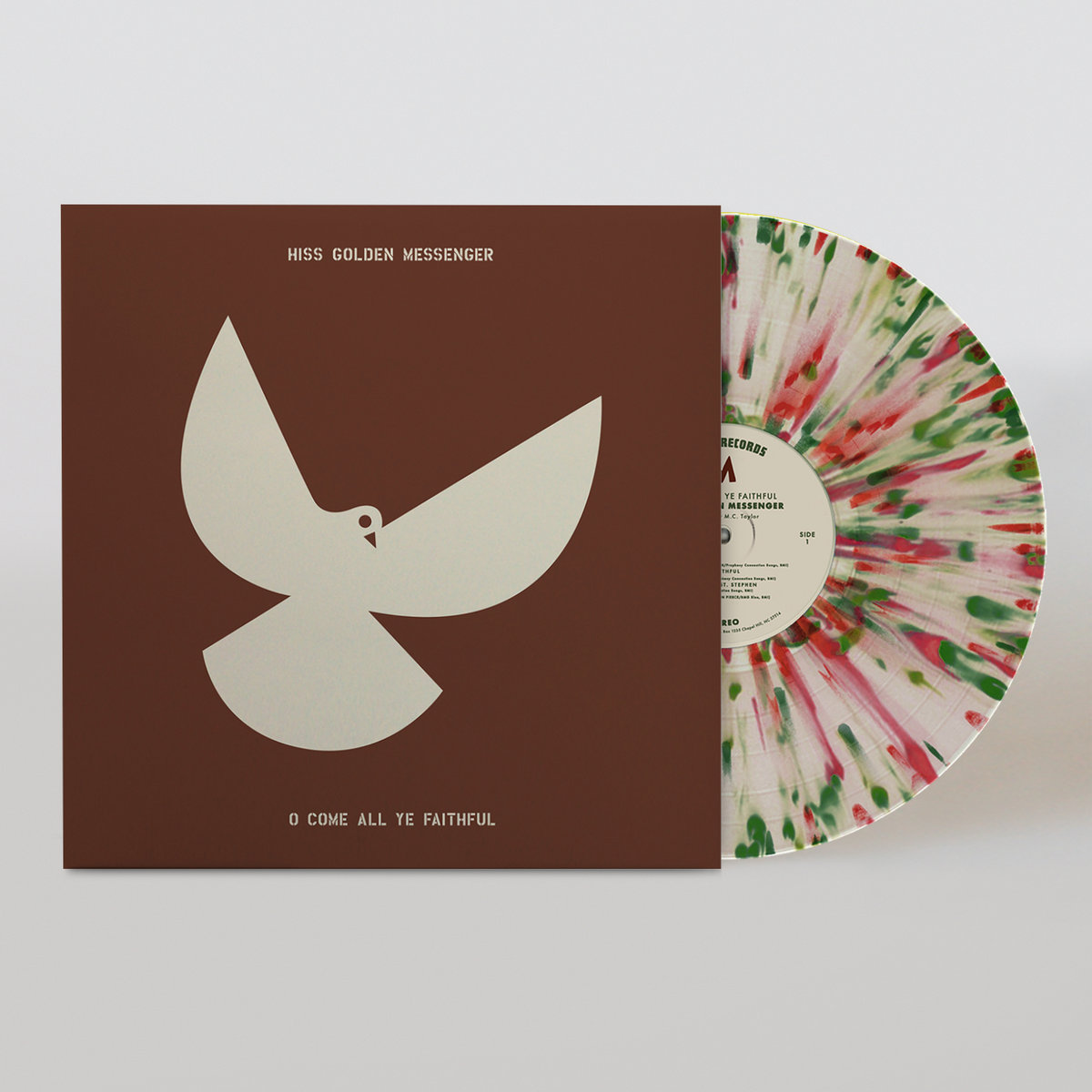 North Carolina's Hiss Golden Messenger major in indie-alt-folk that's also marinated in the southern soul tradition. Their Christmas album, reviewed properly by Kieron Tyler here, was recorded by the same line-up who created this year's Quietly Blowing It album, as an attempt to oppose the primary-coloured glitziness of most seasonal pop. It introduces the bitter-sweetness of the best Christmas music, mingling timeless fare such as the title track and, particuarly, the maudlin takes on "Silent Night" and "Joy to the World" with three originals. Unpretentious, elegantly paced, it's a welcome sigh in the face of more Mariah Carey. Comes on photo/info gatefold on this year's most Christmassy vinyl, snowy with green and red splatter-baubles.
She & Him A Very She & Him Christmas (Merge)
Tenth anniversary re-release for this one, the duo's first of two Christmas outings. It did pretty well commercially when it was first out, after all. She & Him is the pairing of actress Zooey Deschanel and alt-rockin' singer-songwriter M. Ward. Their discovery of each other was a happy coincidence. They both had solid careers in their fields but coming together allowed Ward to facilitate Deschanel's long-held secret desire to give singing a proper go. Perhaps due to the nothing-riding-on-it nature of the thing, the pairing produced a relaxed, loose, likeable music, if occasionally too cute, kind of Nouvelle Vague-ish (without cover version aspect). A Very She & Him Christmas is straightforward alternative easy listening, wherein famous and lesser known classics ("Blue Christmas", "Baby, It's Cold Outside", etc) are treated to Ward's reverb-laden guitar, drums here and there, Deschanel's light voice, occasional sleigh bells. It all feels unforced which is its charm. The duo haven't done much in recent years so it's a timely reminder. And the track-listing comes in an enveloped Christmas card.
Paul Kelly Paul Kelly's Christmas Train (Cooking Vinyl)
Paul Kelly is an Australian institution, a kind of post-pub rock Bob Dylan, but not one whose music theartsdesk on Vinyl has ever felt drawn to. However, it's the season of goodwill and he's released an album to match, a double on art/info inner sleeves, all on art gatefold. It features hosts of guests, none of whom are familar to me, but they include New Zealander Marlon Williams on the Māori carol "Tapu Te Pō" and runs the gamut from Jewish songs to Irish ones and more further globe-trotting, as well as Kelly's own strummed, sentimental story-song "How to Make Gravy". It's all well-intended and produced and, as a TV special, would probably haul some of you in after a few too many Baileys.
theartsdesk on Vinyl's GUIDE TO CHRISTMAS PRESENTS FOR UNCLE RETRO AND AUNTIE HERITAGE
Oasis Knebworth 1996 (Big Brother)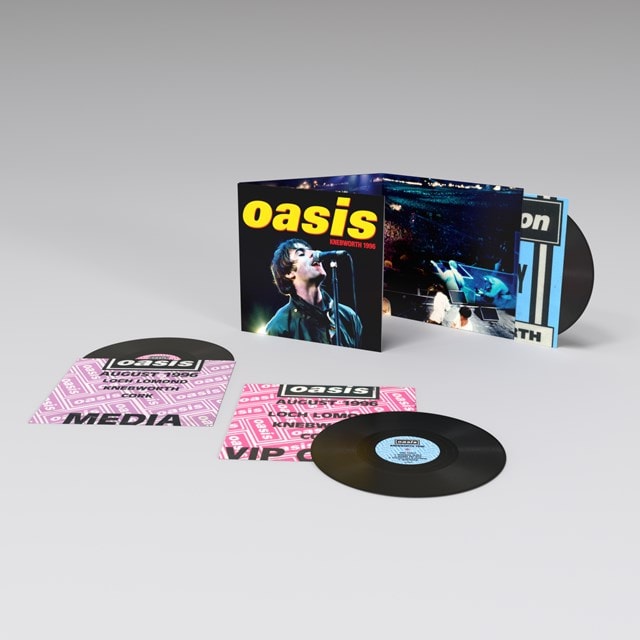 Here's the essential gift for Uncle Retro. He was probably at Oasis's two much-touted Knebworth Park concerts in August 1996, at the peak of their fame. If he wasn't among the 250,000 who attended, he may well have applied for a ticket. Nigh-on four percent of the UK population did that. This is an extraordinary fact. I may be a relentless cynic and naysayer on the subject of Britpop but anyone who tries to claim Oasis were not a phenomenon is rewriting history. The energy exuded by these sets, over three records in a triple gatefold showcasing concert promo and ticketing, is contagious, a snapshot of what made this band the gang every-bloke wanted to join; there's a bullish swagger to it, something triumphant. There's also a clumsy thumpiness to their guitar attack but it doesn't matter… in fact, it's the whole point; it's the sound of a guy jumping around in his bedroom with a tennis racket and goofed rock'n'roll dreams. The songs are, of course, from their first two (and still best-liked) albums, as well as key non-album cuts such as the Noel-sung minor gem "Masterplan". Here, these songs are delivered amid an atmosphere of careening joyousness, the sound of a lot of people having a very good time, a one-off moment. I have seen Liam Gallagher a couple of times in the last few years and his recent takes on these songs are sluggish compared to what's here. He has, once again, sold out Knebworth next June but he'll have to go some to match the boshing drive of his 1996 band and self.
Yusuf/Cat Stevens Teaser and the Firecat (Island)
In 1971, when Cat Stevens fifth album Teaser and the Firecat came out, he was on a roll after the massive success of the previous year's Tea for the Tillerman. He maintained trajectory and it's easy to hear why. Auntie Heritage used to enjoy his music back at school because it contains a folksiness but also a certain strut. Stevens had autodidactically studied all kinds of music, including musicals, after all, as can be heard on US chart-topper "Peace Train", undoubtedly purchased at the time by Sixties refugees but, in fact, now sounding as if it might hail from Hair (the other US No.1 was his version of the hymn "Morning Has Broken"). Stevens matches cuts such the bouzouki-driven "Rubylove" or ballads such as "If I Laugh", with Richie Havens-style heavy-strummed join-in numbers like "Bitterblue" and the bluesey "Changes IV", their unifying factor being a playground sing-along aspect. Now arriving in lyric gatefold, it's easy to see Teaser and the Firecat's appeal – it's catchy - but also why Stevens was often relegated to the easy listening section of record shops.
R.E.M. New Adventures in Hi-Fi (Craft)
Playing through R.E.M.'s greatest hits not too long ago theartsdesk on Vinyl was struck by how it just wasn't connecting. However, like Uncle Retro and Auntie Heritage theartsdesk on Vinyl has lived for many decades and understands a weird thing; that records once enjoyed can sound disappointing a few years later, but then more years pass and they sound grand again. It is, we guess, due to sonic and cultural zeitgeist and habitus twisting the mind hither and thither. Such pretentiousness aside, this is why you should never throw away vinyl you once loved. You will likely love it again. This writer approached New Adventures in Hi-Fi, R.E.M.'s tenth album, wondering if a similar dubiousness would arise, but it's mostly kept at bay by the likes of the gritty riff-rock of "Undertow", the subtly smart jazz-minimalist slowie "How the West Was One and Where It Got Us", the Patti Smith-featuring stream-of-consciousness chug of "E-Bow the Letter", and the classic R.E.M. Automatic For the People-sounding "Electrolite". Then again, if I'm suggesting classic R.E.M. Automatic For the People-sounding songs are decent, maybe it's time to go back and give that a try too. Maybe time has moved on again. Uncle Retro never went off them anyway. New Adventures in Hi-Fi is reissued on double in gatefold, impressively remastered to a depth-of-sound by recording kingpin Kevin Grey
DJ Shadow Endtroducing (Island)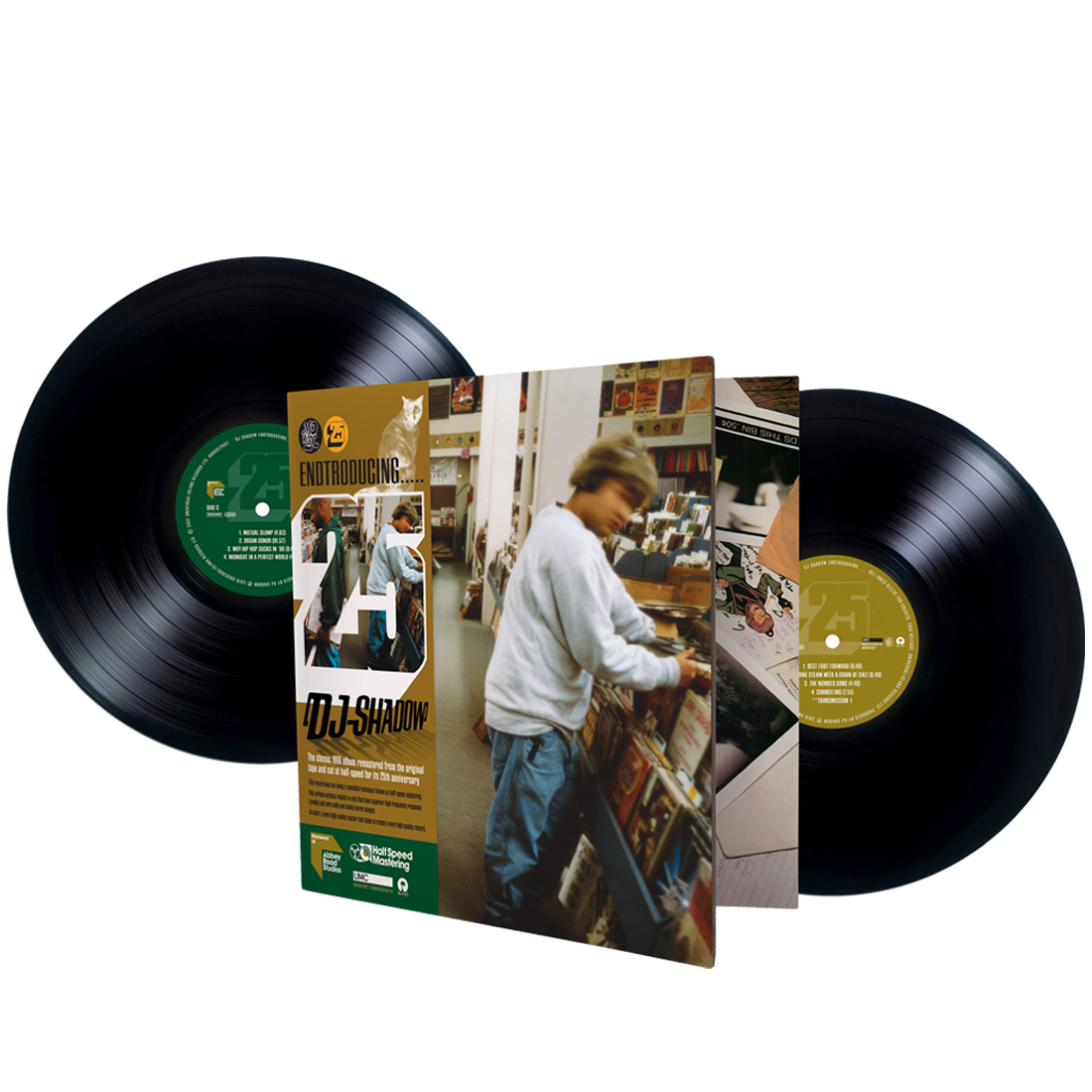 When I worked at Muzik Magazine at the start of this century we drew up a list of the greatest electronic albums of all time. The only one we could agree on to take the top spot was this one from 1996, five years old at the time. Thing was, there were other albums we liked much better, as individuals, but Endtroducing's loping grooves and sample-crafted listening interest hit a spot that, well, everyone didn't mind acknowledging. I still feel the same about it today. It's a key record in the history of breakbeat music, and, in terms of the way Shadow chops and cuts his sounds about, also an extraordinary one. He was ahead of the game and defined a moment in the Nineties, especially for his label, Mo'Wax. Now 25 years old, this anniversary reissue on art-photo double, half-speed mastered at Abbey Road, and with a certificate to prove it, sounds large, jazzy and crystal clear, but I still think of it as stoned hipster easy listening from the days when the word "hipster" was not necessarily a bad thing.
The Waterboys Room to Roam (Chrysalis)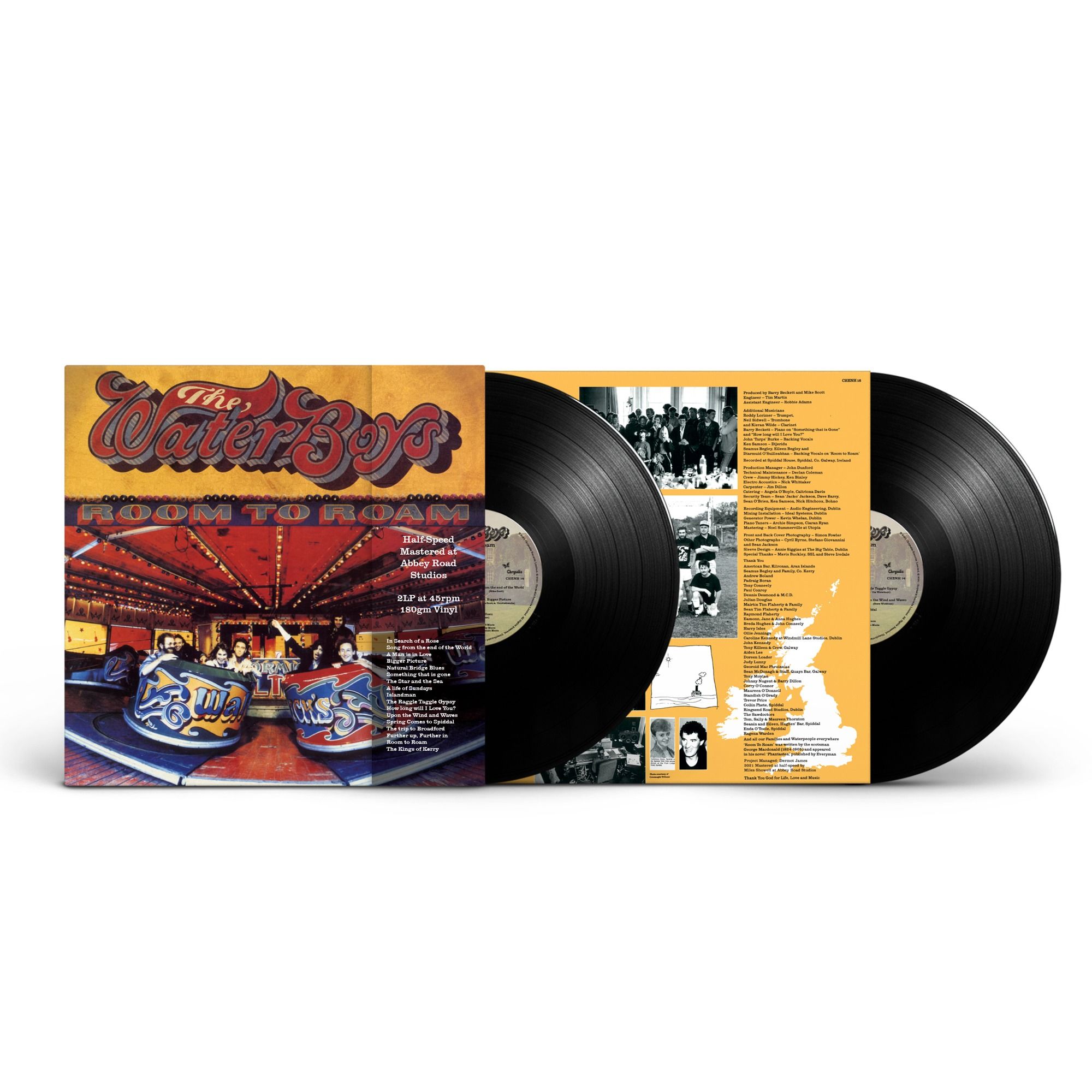 There was a moment in the mid-to-late-Eighties when it looked as if The Waterboys were going to become megastars on the scale of U2. They finely balanced a grand palette and deconstructed soul-rock with folk flavours, their much-touted "big music", and it sounded widescreen enough to have largescale commercial lift-off. However, their monster tune, "The Whole of the Moon", only making No.26 in the charts in 1985 was a taste of things to come (although it did make No.3 when re-released six years later). Instead, they became a much-loved outfit who hit the commercial mid-range and whose songs are beloved of bar band ceilidh players everywhere. Their fifth album. Room to Roam, arriving here on double - again half speed mastered at Abbey Road - and sounding it, is a move deeper into trad folk after the sally of previous album Fisherman's Blues. It runs the gamut from the Al Stewart-like "Something That is Gone" to fiddle-fuelled, proto-Levellers hoedown fare such as "The Raggle Taggle Gypsy". I didn't like The Waterboys in those days but have since been persuaded of the greatness of songs such as "Fishermans Blues" and "This is the Sea". There's nothing here the match of those two but, adhering to its own folk parameters, this is a lively and varied outing with gutsy spirit.
Nirvana Nevermind (Universal/Sub Pop)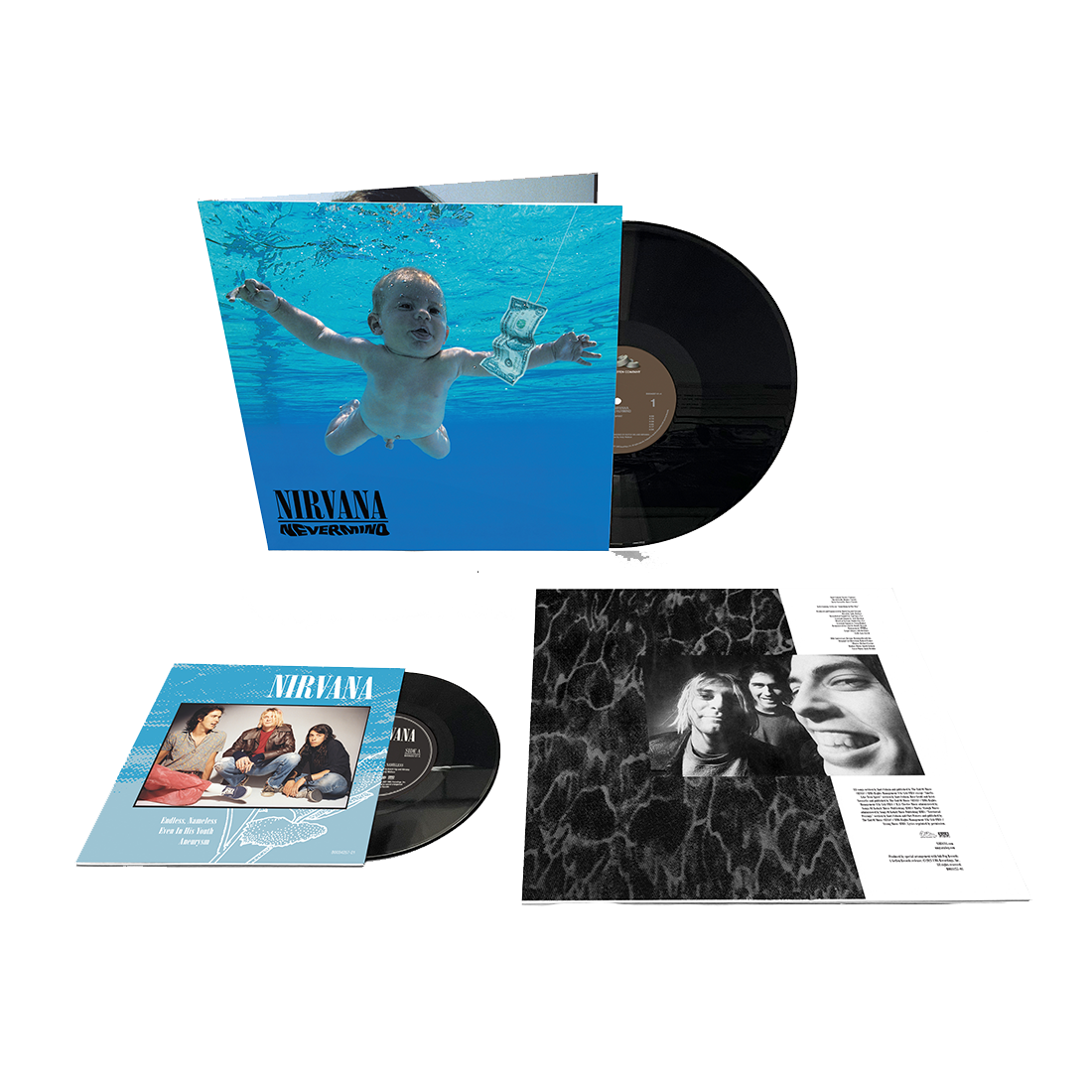 Uncle Retro may spend hours arguing with his mates in the pub that, in fact, In Utero is Nirvana's finest hour but when he arrives back home, eight egg nogs to the wind, it's not In Utero that hits the decks, is it? No, it is and always will be Nevermind. One of the greatest rock albums of all time, it never grows old, every cut combining outrageous catchiness with slurred, raging Crazy Horse-gone-punk verve. The new remastering is not terrible but also not as rich and heavy as it could be (for some reason, as theartsdesk's Reissues Editor Kieron Tyler pointed out to me, the best versions of Nevermind-period Nirvana on vinyl are the picture disc 12"s, as I just clarified by playing that version of "In Bloom" next to the one on this release). The raging squall of the original CD's hidden final track, "Nameless, Endless", is included as a 7" with original CD single extra cuts, and (relative) Nirvana rarities "Even in His Youth" and "Aneurism" on the flip. The album is in photo gatefold and comes with photo/art/info 12" x 12" insert.
The Chicks The Essential Chicks (Sony)
The Chicks, previously The Dixie Chicks, have been a mainly American phenomenon but they did eventually gain purchase on a British audience. Their last album, Gaslighter, was a Top Five album in the UK. However, this greatest hits collection contains nothing from that album, although, curiously, it does contain Beyoncé's 2016 Texan-country-jazz belter "Daddy Lessons", which features the trio. The Chicks' territory is light country-pop, tinted with bluegrass, yacht rock FM radio harmonies, but what sets it all apart is their adeptness at literate narrative songs which drag the reader in, usually focused on and supportive of the travails of women, from the brutal domestic abuse'n'revenge drama "Goodbye Earl" to "Wide Open Spaces" taking the perspective of a girl dreaming of escaping America's never-ending rural flatlands. Auntie Heritage may relate. Comes on double in photo gatefold with photo/info inner sleeves.
The Black Keys El Camino Boxset (Nonesuch)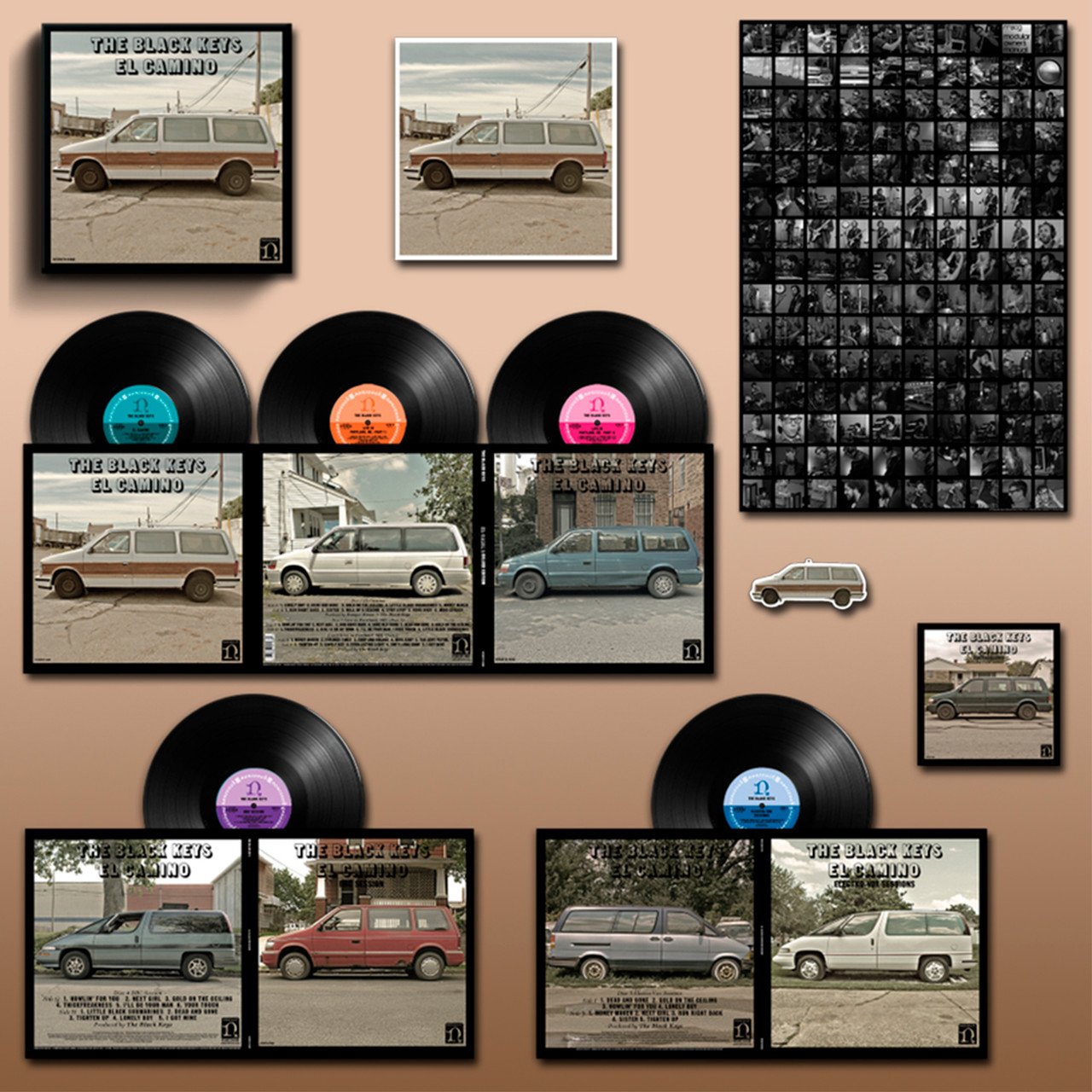 This one will have both Uncle Retro and Auntie Heritage moving the living room furniture and leaping about after a few sherries. On this 2011 album The Black Keys' blues rock has been heavily infused with a dose of pop history and, whether the trucker chug of "Sister", the contagious glam stomp of "Gold on the Ceiling" or the Phil Spector-ish slam of "Dead and Gone", it's all catchy and immediate, but still has a certain underlying punk spirit; the spirit of London Calling springs to mind. Co-created with producer Danger Mouse, right down to the songwriting, it saw the band consolidating and expanding on the success of their sixth album, Brothers, which had appeared year before. This tenth anniversary edition arrives with all the bells and whistles; the original album, of course, but also two records of a live set from Portland that shows how much more riffy and fuzzed-up the band are live, a BBC 2012 Zane Lowe session which reverts back to the roll in rock'n'roll (check out "I'll Be your Man"), and another session recorded in 2011 at L.A.'s historic Electro-Vox Studios (which contains a revved version of "Run Right Back"). There's also a bunch of words from vintage US journo David Fricke, a black'n'white photo-packed poster, and, best of all, novelty fans, a vehicle air-freshener version of the cover art car.
Serge Gainsbourg Histoire de Melody Nelson (Mercury)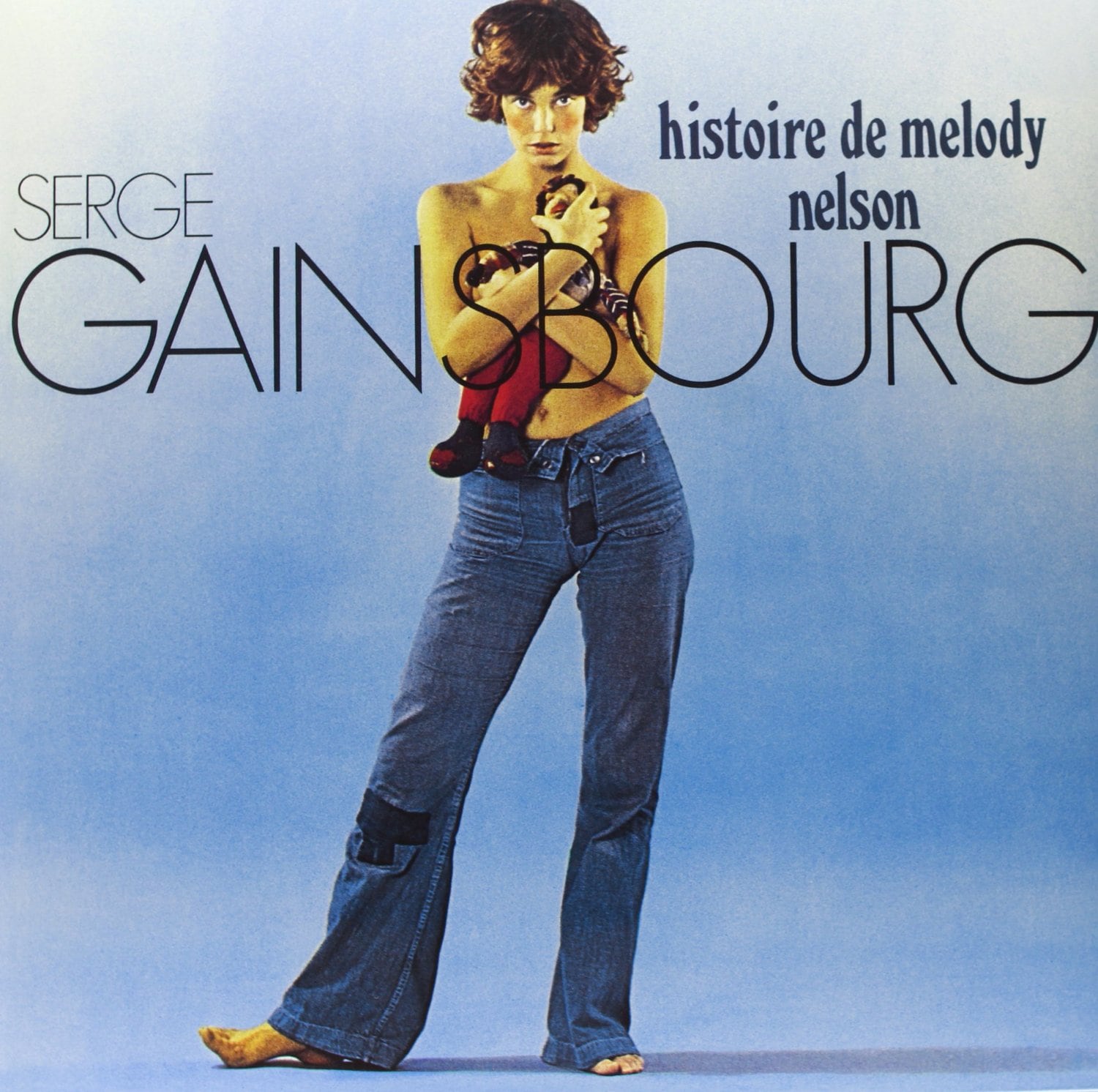 How are we supposed to write about this one in 2021? Then again, how is one supposed to write about Nabakov's masterpiece Lolita in 2021? The answer is to walk on eggshells and hope no-one scanning the internet for the express purpose of pillorying writing about art and culture has scrolled this far down theartsdesk on Vinyl. Gainsbourg, ever the wilful contrarian and controversy-seeker, released Histoire de Melody Nelson in 1971, a half hour concept album about an imaginary fling with a 15 year-year-old girl who then dies in a traffic accident. Not being a French-speaker, I cannot understand the words, but the album is a Gainsbourg classic, his vocals, seedy and precise over Herbie Flowers' distinctive bass, supported by lush, chanson-pop strings, and occasional contributions and giggles from Jane Birkin (who's also on the cover portraying the titular Melody). This vinyl release arrives in photo/info gatefold double with a second set of "session" versions. The whole thing is a bizarre retro trip that's musically enjoyable. And that is as much as we're going to say on the matter.
NON-CHISTMASSY VINYL OF THE MONTH
Orchestra Tout Puissant Marcel Duchamp We're OK. But We're Lost Anyway (Bongo Joe)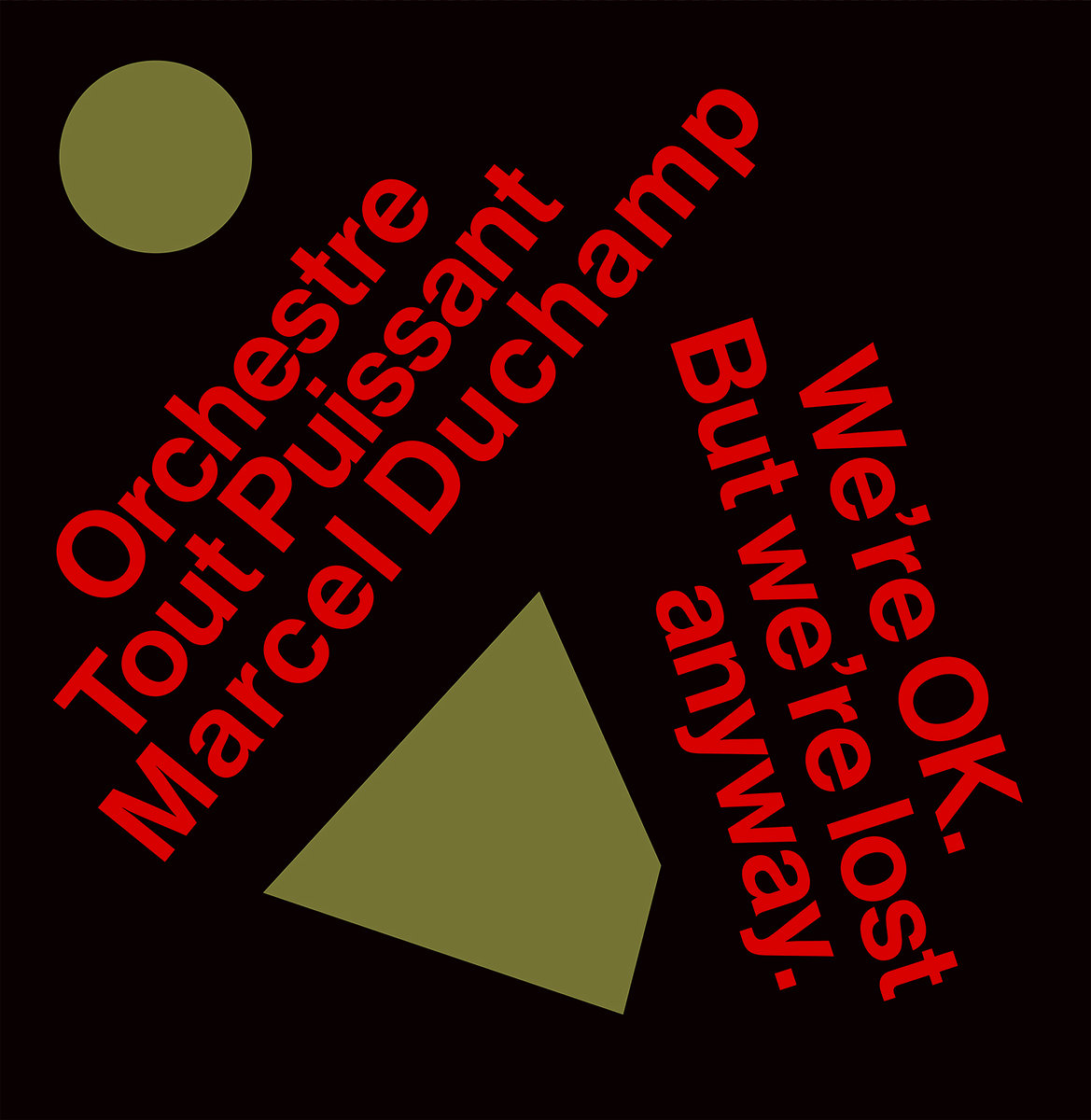 Categorization of music is something that musicians generally loathe – "Dude, I just make music!!!!" – but which music-lovers sometimes find helpful in directing them towards sounds they enjoy. Music journalists bridge this process and are the ones that, traditionally (although far less these days), have filtered descriptives and genre names. Sometimes, though, we're at a loss. Such is the case with this excellent fifth album from Swiss 12-piece Orchestra Tout Puissant Marcel Duchamp. The music here is sometimes jazzily singer-songwritery, sometimes calmly small ensemble orchestral, but the best of it has a kind of hypnotic post-punk groove, with a strong African flavour. To get an idea, check out the superb "So Many Things (to feel guilty about)" whose driving beat isn't so much Afro-beat as redolent of !!!, Out Hud and the like. Whatever's going on, it's compulsive and theartsdesk on Vinyl would advise getting involved at once.
Bess Atwell Already, Always (Real Kind)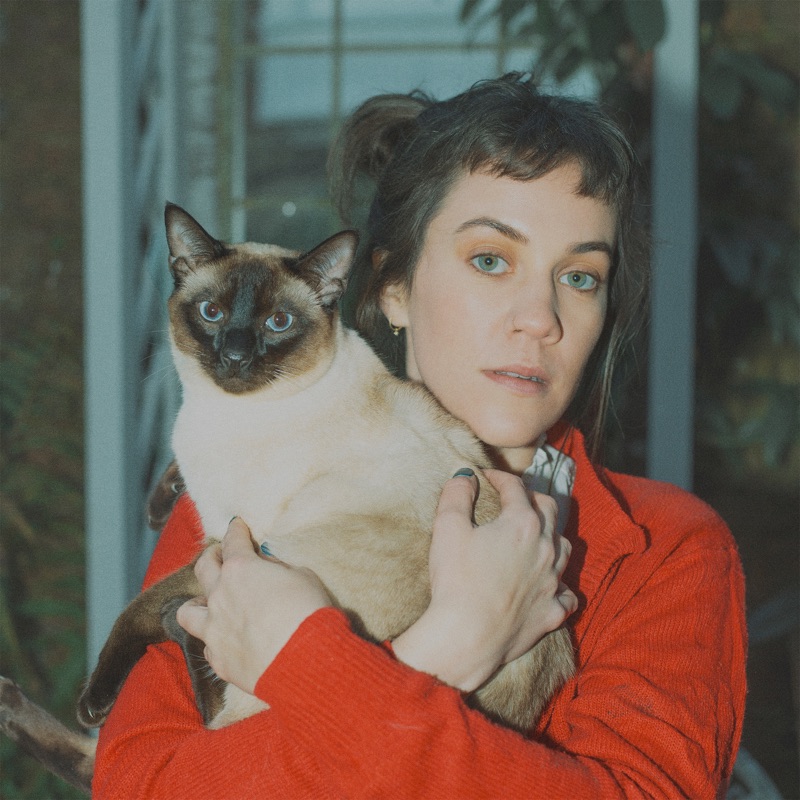 Brighton's Bess Atwell is a rare talent, a singer-songwriter whose languorous voice sits midway between Lana del Rey's hazy delivery and Emmy the Great at her most broken-hearted. Happily Atwell's second album, via indie doyen Lucy Rose's Communion label, boasts a set of late night songs that hold the listener in their grip. They mingle torpid but gorgeous backing, sleepily laid back, with poetic lyrics that have a mundane yet affecting specificity, especially on the superbly enigmatic (anti?) love song "Co-op" (due to the song's reference to Portland Road in Hove, I think the Co-op referred to must be one that was almost directly opposite where I lived for some years – which is irrelevant to this review but I found very exciting!). Arriving on white vinyl in art/lyric inner sleeve, she's that rare thing in the post-Ed Sheeran age, a singer-songwriter worth keeping an eye on.
Pepe Deluxé Phantom Cabinet Vol.1 (Catskills)
Purposefully deranged Finnish duo Pepe Deluxé return with their fifth album, almost a decade after their last one. The intervening years have not seem them calm down. Not at all. Instead, their intense and lunatic pop-funk has only grown busier and more musically full-on. The band blossomed from the sampledelic Millennial breakbeat movement but, leaving their peers far, far behind, their music aspired to the showy musical ambition of prog rock while still maintaining chewy alt-dancefloor kicks'n'giggles. There's so much going on in each track that the ears start to fritz. Just check out one of the highlights, "Fire Up the Crimson Lion"; the beats, song, and melody are more-ish, alongside complex percussion, but there's a host of other things going on, as if those cartoon Animaniacs had been paid to plug every gap. The album's story is well worth exploring too. For years the group gathered recordings from some of the world's oddest and most unlikely instruments; the world's largest cowbell, the Great Stalacpipe Organ in a Virginia cave, a Tibetan drum made of human skulls and skin, a synthesizer built for group sex, and many more. This would all be of little consequence if the results weren't so astonishing, a melee of sci-fi grooving, kitsch pop and freak festival foot-movers. Comes on double in a gatefold of illustrations as busy as the music.
Low Hummer Modern Tricks For Living (Dance to the Radio)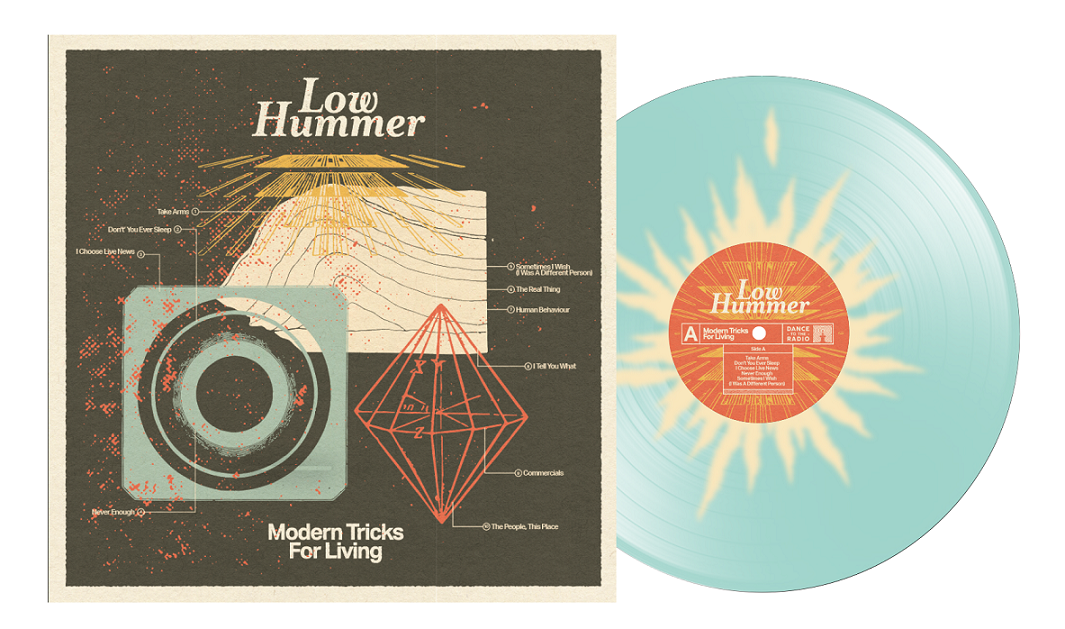 Who could resist an album whose opening lyrics are "For all the Northerners pretending to be southern, take arms/All the business class still living with your mothers, take arms/All the billionaires that don't believe in sharing, take arms." Happily the music is a match, tight indie-punk with tunes, led by imaginative and high-in-the-mix synth lines and male-vs-female vocals that give the whole thing a punchy originality. Low Hummer are a six-piece from Hull. Actually, to call it "indie-punk" is to do it a disservice as Low Hummer also have touches of punk-funk, electro-pop, hints of Joy Division's bouncier songs even. However it's described, it has a gutsy drive that's grabbed theartsdesk on Vinyl, riveted by urgent songs of abstract and not-so-abstract critical commentary on our world where consumerism has become a tedious religion. I now definitely want to see them live! Comes with a 12" x 12" lyric insert.
Adam Scrimshire Nothing Feels Like Everything (Albert's Favourites)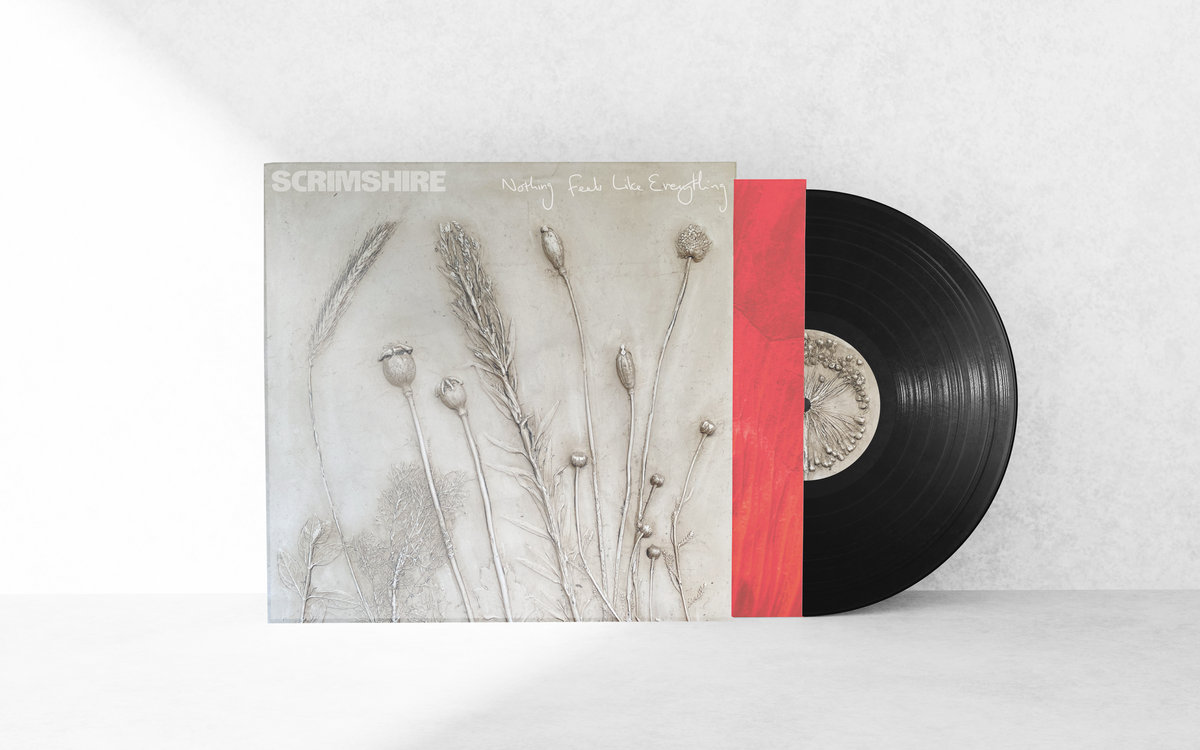 Here comes the fifth album from Adam Scrimshire on his own Albert's Favourites label. Well, he says in the accompanying note that it's his fifth but brief research seems to indicate that it's his sixth, so make of that what you well. What is distinctly possible is that it's his best. Sometimes Scrimshire's music is too light-jazzual for theartsdesk on Vinyl's tastes, too hipster bar tasteful, but Nothing Feels Like Everything, while remaining elegant throughout, just feels like a meatier dish. It's still rooted in downtempo jazz-soul sounds but it's somehow more cohesive and, well, ear-interesting. The vocal cuts are persuasive and individual, featuring the spoken word of Ursula Rucker, the delicate singing of Miryam Solomon and then there's jazz and drum'n'bass perennial Cleveland Watkiss. The latter's tune, "The Pile" exemplifies what's more-ish about this album; its spacious and not entirely easy, recalling Gil Scott-Heron rather than bar background soul. There are other guests too, notably flautist Idris Rahman, but its Scrimshire's keys that often hold things together. He is growing. Comes in art/info inner sleeve.
Magic Roundabout Up (Third Man)
Here's a thing, a debut album from a band who split up decades ago without ever signing to a label or ever really releasing anything. A rediscovered tape led to the disinterring of extant music by mid-Eighties post-C86 Manchester ultra-indie kids Magic Roundabout. It's hard to imagine what a 2021 teenager might make of its deliberately messy lo-fi combination of feedback, cute female vocals, droney psyche interludes and sweet late-Sixties-style songs, but this quinguagenarian writer can immediately relate. This is the sound of a bunch of kids who have suddenly, vehemently found their thing in The Jesus & Mary Chain's Psychocandy, bands such as the Shop Assistants, Creation Records, and discovering the then-relatively-obscure Velvet Underground. Slowies such as the album's title track and the "Waiting For My Man"-riffed "She's a Waterfall" (not that one, obviously, but it does make you wonder if fellow Mancs The Stones Roses borrowed the line) sit alongside noisier fare and the whole of Side Two is one long, deeply psychedelic murk journey called "Alice's Paperplane", which sounds like the bits in early-Eighties TV Personalities songs where the songs stop and wander off into headspace. Comes with 12" x 12" photo/info insert.
Mira Calix Absent Origin (Warp)
Mira Calix – Chantal Passamonte – is a multimedia artist whose career refuses to be boxed, dealing equally in installation art, modern classical composition, soundtrack creation and avant-garde-ism. She'as not made an album for Warp in 15 years but her latest very much fits the label's perceived remit. Which is to say that it doesn't easily fit anywhere! Passamonte says of this double set on the art/info inner sleeves that she was inspired to create Absent Origin through studying the period leading up to World War I, for an installation. This set her thinking about the collagists of that time but also about comparisons with our divided age. The resulting album, over four sides, comprises 17 tracks, each made in honour of a collagist. She's taken voices, recordings, found sounds and more, and chopped them into ear-fascinating pieces that add up to a societal art-commentary and range from the orgasmically noisy "bower of bliss" (dedicated to radical feminist Linder) to the looping, tricksy "fractions fractured factions" (dedicated to early 20th century modernist designer Eileen Gray) which features looped, messed-about chunks of female South African rapper Yugen Blakrok amid a mash of blips and squeaks. It could be a pretentious exercise where the idea is interesting but the result less so, but it's not, it's consistently intriguing, and leads the listener on to explore the artists she's referring to (every track's origins are listed on one of the inner sleeves). Mira Calix has gone right off on one here in an admirable way. Comes on double with a collage art insert (of course) saying "everyone dances to their own personal boomboom". Quite right too.
Gerry Mulligan Night Lights (New Land)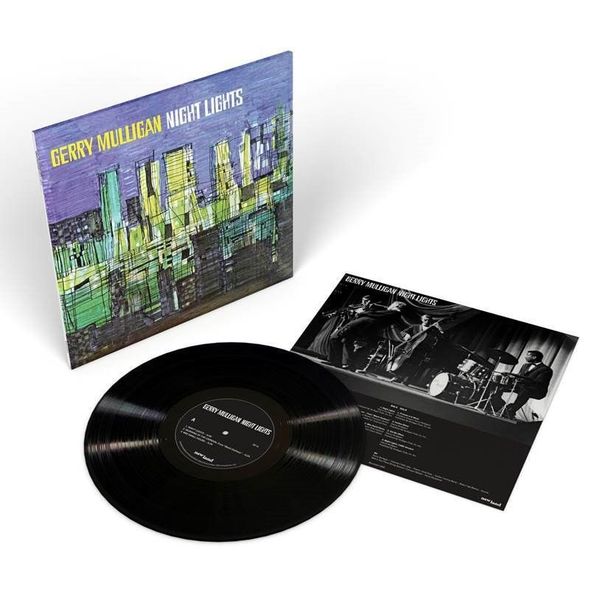 Baritone sax don Gerry Mulligan sounds delicious on these gorgeously mastered analog tape transfers (that's the way to do it, major label digital rip-off sorts). Originally released in 1963, on the 12" x 12" photo/info insert bassist Bill Crow tells how Mulligan put together a sextet for the 1963 Newport Jazz Festival, his first sextet since 1956, including guitarist Jim Hall, drummer Dave Bailey, trombonist Bob Brookmeyer and, especially notable on this album, trumpet-player Art Farmer. Mulligan composed the opening title track, a heavy-eyed smoky late night thing, and decided the whole album would follow this vibe which it initially does, although the ante is upped on the lively "Festive Minor" and a bright, bossa-nova-flavoured take on Chopin's "Prelude in E Minor". Also on board, aptly, is "In the Wee Small Hours of the Morning". Anyone feeling frazzled and looking for a salve, this is the real deal.
John Lord Fonda Altaïr EP (Citizen) + Dev/Null Microjunglizm (Evar)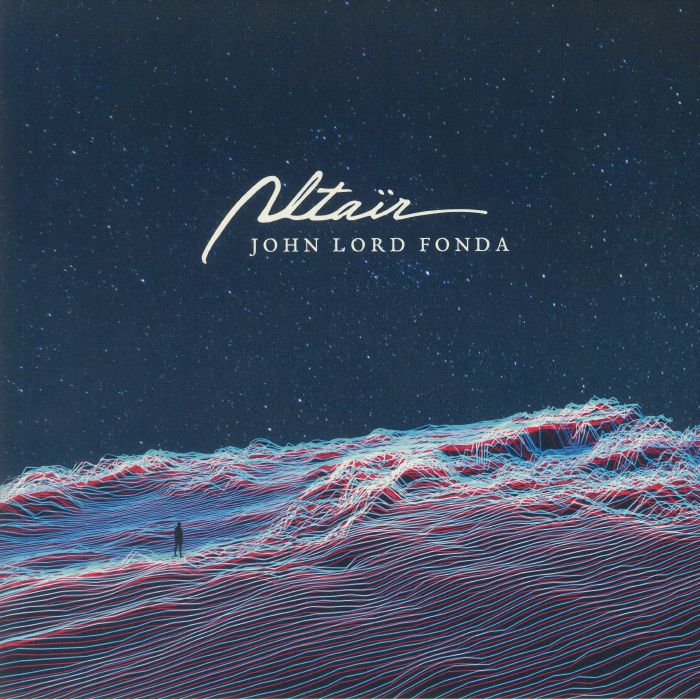 The exact opposite of Gerry Mulligan are these two releases, both battering electronic dancefloor outings. French techno producer John Lord Fonda (Cyril Thevenard) reappears with his first release in a while, a three track 12". It arrives via Vitalic's Citizen Records and leads off with the crisp-sounding "They Will Fight for You", which scrawls meteorological systems of careful squawl around an unstoppable 4/4 kick. On the flip are two versions of "Les Dunes d' Altaïr"; the original skitters along equally forcefully, with a rising Middle Eastern wailing slowly appearing throughout, while the remix by fellow Frenchman Damon Jee is a less in-yer-
face rolling affair, even sort of psychedelic. American producer Dev/Null does without any such smoothness or nicety on his head-crunching drill'n'bass-ish techno-hard junglist eight-tracker Microjunglizm. The whole thing was innovatively produced on a handheld sequencer called a PO-33 Pocket Operator without the use of a computer. This gives it a very one note attack that's kind of relentless, especially given the music is deliberately caustic, a gleeful 2021 pastiche of 1990s hardcore rave, but that is exactly the point. Comes in die-cut generic Evar label sleeve.
Houieda Hedfi Fleuves de l'Âme (Phantasy)
Houieda Hedfi is a Paris-based Tunisian who has put this set together overseen by producer Olof Dreijer of The Knife. Working with Tunisian violin player Radhi Chaouali and Palestinian buzuq player Jalal Nader, Hedfi, a woman, has created a set that has Tunisian folk at its origins but wanders globally where it pleases. Listening to it before reading the back story, some of it, for instance, sounded Far Eastern. It's sonic mood rises and falls between an electro-folk-ish take on classical minimalism, ambience, contemplative strings and something a livelier, with one cut, "Appel du Danube", made with Planningtorock, and blossoming into shoegaze noisiness. The pieces are all named for rivers, which makes sense, as they really do ebb and flow with an unknowable edge, like bodies of water. The vinyl album comes on double in art gatefold in a limited edition of 500, the whole, including a 12" x 12" signed art insert, boasting original and eye-stimulating colourful visuals. The vinyl is also pleasing, a pale transparent watery blue in a shade I've not seen a record in before. A likeable and unique package.
Niko Electric Union (Atic)
Brit-based American Nicole Vergell de Dios has popped up on releases by artists such as Mr Scruff and Riton, as well as Aim who co-produced her last album, Hate & Love, almost a decade ago. Niko began her recording career amongst that whole tastefully jazzy neo-funk sound of the early '00s but her third album sees her thankfully head ever further into synth-pop. It has a seasoning of the 1980s but is equally bonded to the likes of Daft Punk and La Roux. Pared back bass-groovin' Side B opener "Don't Call On Me" has a well-done retro-funkiness but most of Elecric Union is keener to give you a tune you can hum while you're jumping around the dancefloor. Comes on purple-splotched white vinyl.
ALSO WORTHY OF MENTION
Hard Feelings Hard Feelings (Domino): The ridiculously busy Joe Goddard returns with yet another project, alongside Hot Chip, The 2 Bears, and whatever else he gets up to. This time he's joined forces with Amy Douglas, guest singer to cognoscenti making smart, knowledgeable dance music (think Soul Clap, Hot Creations, Horse Meat Disco , DFA Records, etc). Together they have put together a double set in art/info/lyric inner sleeves which happily wanders around Hi-NRG disco of the classic old school gay club variety but also steroid reinventions of Yazoo's style and housey electro-pop. Douglas has fearsomely strong lung-bower and adds wallop to these torch song bangers which I'll be expecting to hear in NYC Downlow at next year's Glastonbury Festival.
Pie Eye Collective Salvation (Albert's Favourites): More from the label of Adam Scrimshaw, reviewed elsewhere here. Pie Eye Collective is not a collective at all but London-based Bristolian Matthew Gordon, and this is his debut album (there is actually another Pie Eye Collective, a very obscure American LSD-flavoured drone outfit, but we needn't concern ourselves with that right now). Gordon's 10-tracker, in both outer and inner sleeves with (purposefully?) cheap-looking computer graphics is all bubbling electronica that just about sidesteps the broken beats thing (one style I find it hard to love) and offers a jazzy electro-noodle for late night perusal. It defies obvious categorization and dips a toe into light technoid experimentalism too. Guest appearances from the producer Hector Plimmer and rising singer MettaShibba (of An Alien Called Harmony).
Trifecta Fragments (KScope): The idea of Kajagoogoo's Nick Beggs playing fretless bass on a series of 15 prog noodles (the titular "fragments") does not sound appealing. However, he, keyboard-player Adam Holzman and virtuoso drummer Craig Blundell muster a set that keeps things snappy, brief and interesting, on a collection of tightly wrought, jazz-flecked curios. There are vocals on the oddball "Pavlov's Dog Killed Schrodinger's Cat" but the rest veers between swift Weather Report-ish funk jams, squelchy electronic wibble, and semi-ambient experimentalism.
Various Home: Volume One (Warm): Warm are primarily a successful booking agency for hip globe-trotting DJs such as Luke Solomon, Kiddy Smile, Horse Meat Disco, and many things Hot Chip-related. However, with lockdown's enforced closure of that side of things, they focused on their record label operations with imprint head Ali Tillet putting together this ambient collection on double in art gatefold and info inner sleeves featuring producers such as Âme, Kirk Degiorgio and Richard Norris. Themed around Tillet's native Dorset, each side is themed – A is Harbour & Estuary, B is Heathland & Moorland, C is Woodland & Forest, and D is Beach and Cliffs – and between tracks are appropriate location recordings of everything from Natterjack Toads to the lapping waves. It's peaceful...
Daryl Hall & John Oates Live at the Troubadour (BMG): Appearing for the first time on vinyl is Hall & Oates's 2008 concert album, Live at Troubadour, recorded at the historied Los Angeles venue earlier that same year. 35 years after they first played there, they dive around shadowy corners of their back catalogue, as well as major hits such as "Maneater", spreading the two hour set over three records in photo triple gatefold. The sound they've chosen to go for is too light jazz-funk for theartsdesk on Vinyl - even songs such as "I Can't Go for That" are rendered flutey and easy-listening – so it's one of the superfans rather than casual consumers.
Esinam Shapes in the Twilight of Infinity (W.E.R.F): If you must major in light jazz-funk, prog-rock title aside, then Belgian-Ghanian pianist-flautist-producer Esinam's methodology is a preferable way to go. Assisted occasionally by voices, such as those of striking singer Sibusile Xaba and poet Nadeem Din-Gabisi, this debut album is Esinam showcasing the breadth of her sound, offering a bubbling Afro-delic sweetness, percussively led, expressive, jazzy tunes swerving playfully around four sides of vinyl on double in art gatefold, riding the interlink between barroom cocktail electronic grooves and something meatier. Comes with 12" x 12" info sheet.
Starchild Common Saints (Starsonics): Charlie J Perry is a successful contemporary producer for acts such as Jorja Smith but Starchild is his downtime project. This five track EP offers grooves that sound like Funkadelic if they'd spent more time in Ibiza and been fronted by a falsetto singer. Unafraid to place hefty guitars beside soulful sounds, Perry's music is still airy and even touches on psilocybic floatiness.
Novelty Island How Are You Coping With This Century? (Think Like a Key): One cannot help but notice that prolific Liverpudlian singer Tom McConnell owes a debt to The Beatles but it should also be noted that his music is far from a direct pastiche. The Beatles-ness is in the vocal stylings, the choice of words in these narrative songs, the light-hearted surrealism, the Sixties harmonies, the folk-tinted melodies and, perhaps, most of all, the jolly pop-psychedelia nailed to easy-on-the-ear tunes. The latter, however, is attached to a magpie-spirited bedroom studio playfulness that's very now.
AND WHILE WE'RE HERE
Let's start with a couple of film soundtracks. First off, one of the year's biggest films, the new and much delayed Bond - and the first Bond soundtrack by Han Zimmer (on Decca). Given he also soundtracked Dune this year, as well as a few others (including Boss Baby: Family Business, one for the completists), it's surprising he maintains the quality level he does. His No Time to Die soundtrack riffs extensively on old Bond, notably, like the film, On Her Majesty's Secret Service, but has the driving excitement and electronically enhanced heft Zimmer has made his own, as well as the surprisingly delicate Billie Eilish theme. Comes on double in gatefold. Norwegian filmmaker Mona Fastvold's The World to Come is not as well-known but, although I've not seen it, looks worth a watch, the story of two farming couples' lives and loves amid the unpopulated wilds of mid-19th century America. The soundtrack (on Mute Records) is by Daniel Blumberg, alongside various other Café Oto habitués such as Peter Brötzmann. It comes on gatefold and has a suitably lonely feel as Blumberg's instrument – and other clarinetists - play against cello and other stripped back instrumentation. Burn, by Dead Can Dance vocalist Lisa Gerrard and Jules Maxwell, the band's touring keyboard-player who worked with her on the recent-ish Le Mystère des Voix Bulgares album, is not a film soundtrack but it sounds like it could be one. Arriving on white vinyl in photo-art inner sleeve on Atlantic Curve Records, sparse, small ensemble, ever-building backing accompanies the mournful, full-bodied voice of Gerrard, whose vocal style has the plaintive feel of a widow letting loose passionately at a Mitteleuropean wake. The Boo Radleys were once Alan McGee's most-likely-to band and did OK but never quite hit the commercial heights of some of their peers. This summer they returned after 23 years with a new EP, A Full Syringe and Memories of You, but without lead songwriter Martin Carr. The new material catchy, following what came before, interlaced with a Beatles-ish feel that the band always had. I was never really into them at the time and this isn't screaming at me that I need to play catch-up, but if you were, you will likely not be disappointed. Unlike almost every music-lover I know (especially music journos), I have long failed to fall for the charms of vanguard L.A. electro-funker Thundercat and the bubbling, slightly jazz-funk noodle of his debut album, The Golden Age of Apocalypse (Brainfeeder), now reissued, still fails to grab me. This is a shame as it looks mighty fine on translucent vinyl in its gold-embossed cover with a hologram-effect logo. Another artist who many like but who hasn't quite hauled me in is Matt Berry who has a new double Best Of set entitled Gather Up on Acid Jazz. That said, the variety on here is impressive, running the gamut from semi-novelty jollity to psyche-folk to alt-country. He's no slouch! Loudly pressed to white vinyl in lyric inner sleeve, a new collection from Belinda Carlisle is also surprisingly varied for those that only know her from stadium lighter-waver hits. It's a limited edition set she curated from her albums Heaven on Earth (1987), Live Your Life Be Free (1991), and Real (1993) to celebrate women in music, with the addition of a newly recorded version of the sixties Youngbloods hit "Get Together". It's rockier than you might anticipate, especially the slightly psychedelic take on Cream's "I Feel Free". For those seeking peace to counterpoint the freneticism of the festive season, four new albums might do the trick. One is Jim Wallis and Nick Goss's Pool on Tip Top Records. Artist Nick Goss essentially paints an ambient soundtrack with multi-instrumentalist Wallis, based around recordings the former made aboard a tanker for some weeks in the Adriatic Sea. It's a pleasingly gloopy marine-centric brain-bath that comes on gatefold in bright aquamarine vinyl. Another is the latest from Canadian modern classicist/electronic artists Sarah Davichi, Antiphonals on Late Music Records, wherein Mellotron quietly weaves slow tones among other keys and a purposeful hiss that seems to indicate space and being alive. Italian composer Giancarlo Erra covers similar territory on his latest, Departure Tapes on KScope Records, which comes on art double, although his music has more going on, a wider array of timbre spinning among the big room airiness and Cage-ian wash. The final recommended album of laidback-ness is pianist-singer Hania Rani and fellow Pole and cellist Dobrawa Czocher's Inner Symphonies on Deutsche Grammofon. Fans of the Late Johann Johansson will enjoy these four sides in photo-art gatefold on red vinyl. The duo major in revolving gentle patterns submerged in reverb-laden washes and tones that may calm listeners' minds and sloooooow things right down. Well, we have reached the end of this Advent-themed theartsdesk on Vinyl, with the perfect music for those who wish to leave the noise behind. Me, though, I'm gonna crack one open and slam on Patrik Fitzgerald again. Merry Christmas!
We welcome any and all vinyl for review. Please hit thomash.green@theartsdesk.com for a postal address.
It introduces the bitter-sweetness of the best Christmas music
Share this article