Eric Ravilious: Drawn to War review - a lovingly crafted documentary portrait |

reviews, news & interviews
Eric Ravilious: Drawn to War review - a lovingly crafted documentary portrait
Eric Ravilious: Drawn to War review - a lovingly crafted documentary portrait
In love and war: one of England's great watercolourists reappraised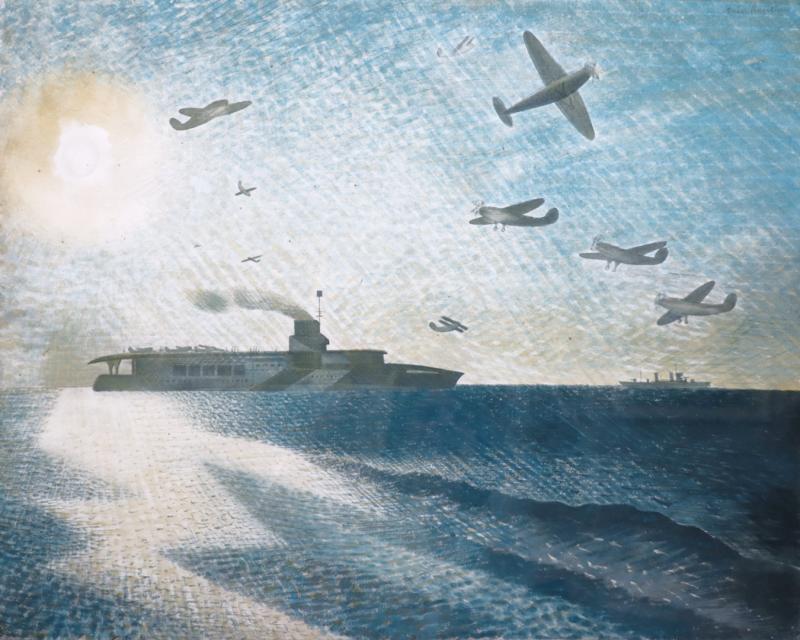 'HMS Glorious in the Arctic' by Eric Ravilious
There's a sharp observation, delivered in Alan Bennett's soft tones, that sums up the reputation of the painter Eric Ravilious: "Because his paintings are so accessible, I don't think he's thought to be a great artist. It's because of his charm. He's so easy to like and things have to be hard, if they're not hard, then they're not great."
Veteran arts documentary director Margy Kinmonth makes an excellent argument for elevating the status of watercolourist and etcher Eric Ravilious in this lovingly crafted biographical film. Her account begins with Ravilious' dramatic end; an official war artist, he went missing in action while flying with the RAF over Iceland in August 1942. He was only 39 and left behind his artist wife, Tirzah Garwood (pictured below, painting with her husband) and their three young children. Extracts from Garwood's autobiographical writings and the letters that flew between the couple over the years, voiced by Tamsin Greig and Freddie Fox, bring the story to life.
Ravilious' early death while undeniably tragic, had a certain aptness as he loved planes both as objects and as a means to sketch the world laid out below. Aircraft feature in many of his eerily composed wartime watercolours, which functioned both as a pictorial documentary record and lyrical propaganda. Kinmonth has cast her net wide, revisiting landscapes and juxtaposing Ravilious' images in a lyrical style. She has also gathered together some diverse interviewees; pilot Mark Miller stands on a rainy airfield and talks about how Ravilious included the bespoke tents put over the resting engines of a De Havilland Dominie to protect from the sub-zero temperatues. Without his painting, that feature would never have been recorded.
Sixty years after his death, Ravilious' life is reconstructed on screen through readings, archival images and the memories of family and friends. There is lavish use of the artist's haunting images. Occasionally, and with the lightest touch, Ravilious' paintings are briefly animated on screen. The effect is a little disconcerting, a static figure comes to life, but it's not overdone and quite charming. Curators and artists – including Ai Wei Wei, Grayson Perry and David Hepher – put him in context and appraise his work. Writer Robert MacFarlane admires Ravilious' evocations of the English terrain, particularly the countryside in Kent, Sussex and Essex where he lived. The artist also captured the bleak beauty of Scapa Flow and the coast of Scotland where he was stationed with the navy during manoeuvres. MacFarlane describes one image as being both profoundly serene and profoundly disturbing, emphasising his status as a modernist.
Ravilious' wartime paintings remind me of Michael Powell's contemporary portrayals of Britain in films like The Life and Death of Colonel Blimp, 49th Parallel and A Canterbury Tale. Both men shared a deep love of the English countryside and a genius for creating haunting images when straight propaganda was all that was officially required of them.
Ravilious was born in Acton, the son of an antiques dealer who wasn't successful in his business dealings. After art school under Paul Nash, he made a living creating intricate woodcuts celebrating cricket and high street shops and providing designs for Wedgwood mugs (pictured below). But this widely reproduced work as a graphic artist may have led to him being dismissed by a snobbish art establishment as too decorative and commercial.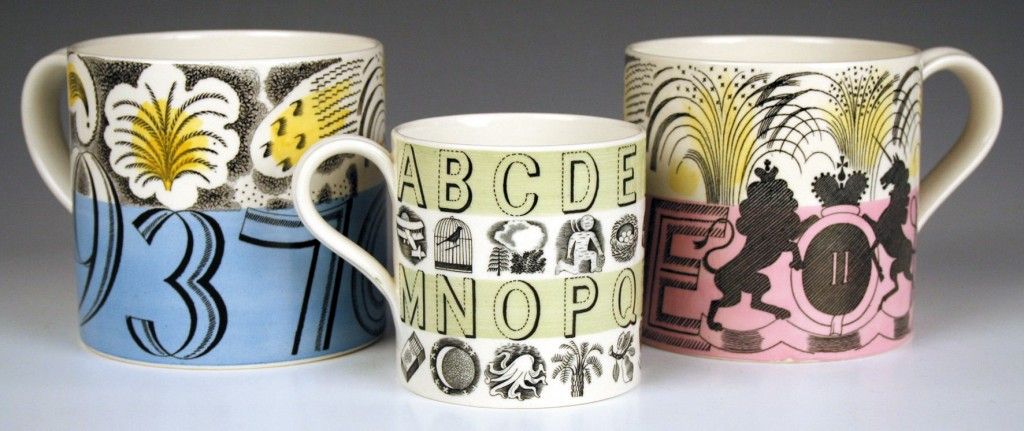 Money was always a concern, especially with three small children to support. His surviving daughter Anne has been very generous, allowing Kinmonth access to her parents' letters, even when they detailed his infidelities. Many of his greatest paintings were lost at sea when they were being sent for an overseas show aimed at encouraging support for the war. All that is left of one of his greatest pieces, a vast mural in London's Morley College, are some tantalising photographs after the building was destroyed in an air raid. A superbly mounted retrospective at the Dulwich Picture Gallery in 2015 helped raise Eric Ravilious' reputation in the art world; let's hope that this ingenious and beautiful documentary will help even more.
Kinmonth has cast her net wide, revisiting landscapes and juxtaposing Ravilious' images in a lyrical style
rating
Explore topics
Share this article