Ex Kirov ballet chief takes not-so-Bolshoi job |

reviews, news & interviews
Ex Kirov ballet chief takes not-so-Bolshoi job
Ex Kirov ballet chief takes not-so-Bolshoi job
Acid-blighted Sergei Filin to hand over to Makhar Vaziev next spring
Wednesday, 28 October 2015
Bolshoi chief Vladimir Urin and his choice, Makhar Vaziev, to succeed Sergei Filin (right)
The great Bolshoi ballerina Ludmila Semenyaka once told me that you need the claws of a tiger and the hide of a rhinoceros to survive at Moscow's iconic theatre. Her bitter words came to mind yesterday morning when I saw the Twitter feed of the Bolshoi Theatre blithely congratulating the ballet artistic director Sergei Filin on his 45th birthday – along with a photo of him from before the acid attack that ruined his youthful looks, his eyesight and his career as a ballet director.
It was perfect Russian irony: sincere wishes for a happy birthday, the day after your successor's introduction trumps any lingering authority you might have had in the company for the rest of your tenure.
For on Monday the Bolshoi announced that Filin will be succeeded by Makhar Vaziev, one of the big guns of Russian ballet, former Kirov Ballet head for 13 years, presently happily residing as ballet chief at another venerable theatre, La Scala, Milan. It's a great result, considering the hugely unpromising circumstances, a very remarkable turn of events, with a fair chance of putting salve on many wounds and finally releasing the Bolshoi from much that is insalubrious in its past.
But it's also very hard to believe one's eyes. The big gun is apparently walking into a not-so-bolshoi job – isn't he?
Vaziev, 55, made it clear in an interview on Monday that he would never repeat the painful experience of being a glorified ballet manager, denied his artistic head, as he was at the Kirov-Mariinsky under Valery Gergiev. And yet, on the face of it, that is just what he is doing by taking the Bolshoi position.
There is more going on under this appointment than meets the eye
When Bolshoi chief Vladimir Urin gave notice in July that he would not be renewing Filin's five-year tenure as director next March, it wasn't surprising. What caused real amazement was that he said he was abolishing the job Filin occupied, and refashioning it with responsibilities and command chains that could not help looking much diminished in authority. No longer would the artistic director of the Bolshoi Ballet be given the hallowed title of khudruk, with the final say; the position would be artisticheskii direktor, a member of a team directorate answering to the theatre head, Urin himself.
The distress this caused could only occur in Russia, where khudruk has a particular resonance – literally, the leader of the art – based on the Soviet experience when the ballet's head was not a manager of artists (that was done by the Soviet system itself) but the oracle of artistic authority, more visionary than managerial. All decisions flowed from the creative direction.
However, Urin had recently been making major changes in the Bolshoi leadership to establish himself as the final word as general director, in jolting contrast to his predecessor Anatoly Iksanov, who focused on the theatre's economics, leaving artistic matters entirely to his opera and ballet directors. Since Urin appointed his very able wife, Irina Chernomurova, as the Bolshoi's director of repertoire strategy – adopting a system they had employed very successfully at their previous theatre, the Stanislavsky – it has been read by some as a takeover of artistic matters by managers.
All this has played straight into the hands of the high priests of the Soviet golden-agers, who believe the Bolshoi has become degraded by Western-style commercialism and management practices since the collapse of the USSR. And this mood music has been crescendoing as national politics have become more strident.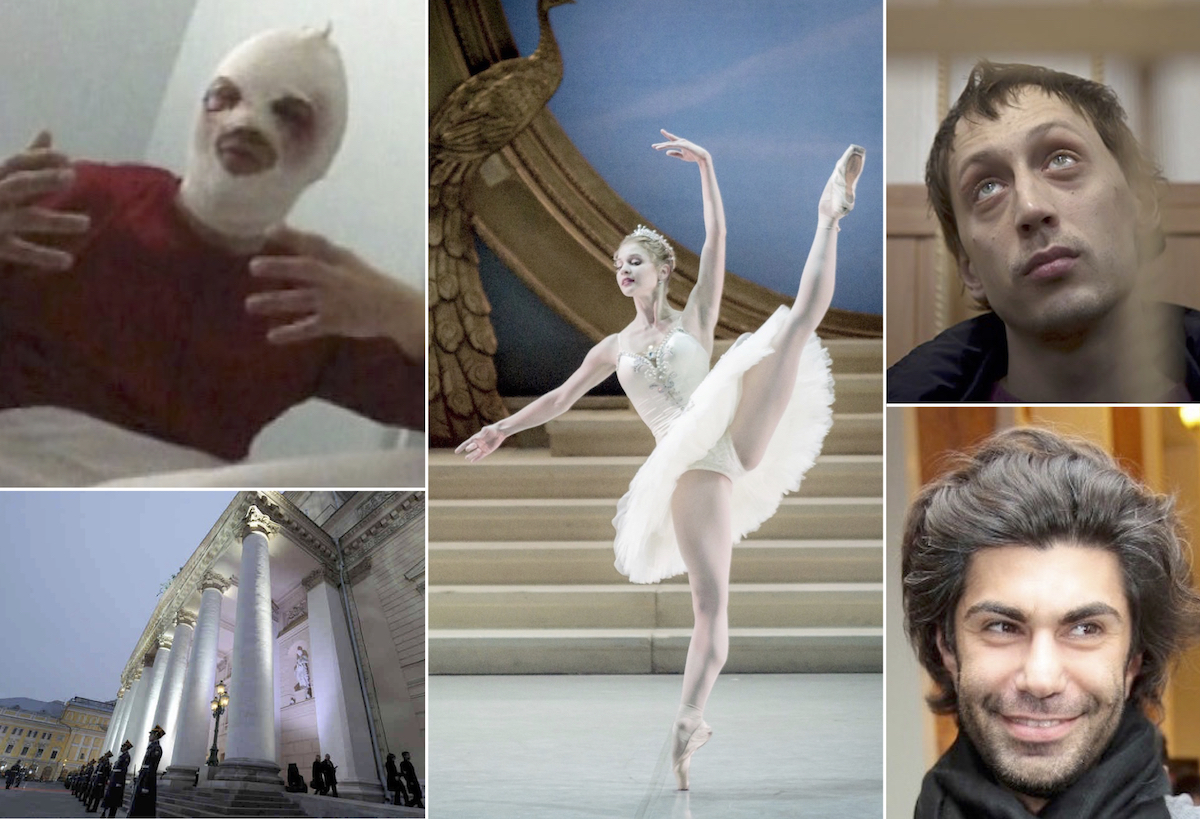 Acid ballet: clockwise, the Bolshoi Theatre, Filin in bandages after the attack, Angelina Vorontsova, Pavel Dmitrichenko, Nikolai Tsiskaridze
The Filin crisis precipitated a crunch that has been coming for some time. Post-USSR, Russia's great ballet companies have been buffeted by the widening differences between their entrenched Soviet modus operandi, including the anachronistic employment structures, and the world in which the Russian ballet wanted, and deserved, to prosper. Artistic directors around the world's ballet companies are pragmatic people now, people-managers and experts in deploying repertoire to brand their companies and retain their best talents.
In the present mood prevailing in Russian politics and media, to change from a hallowed Soviet khudruk to a Western-style artisticheskii direktor was potentially provocative. But it was evident that the Filin situation had already caused a rewriting of his job for entirely practical reasons while he was absent for medical treatment. This was quite separate from the mutiny over his personal handling of relationships with dancers by the vocal faction supporting his attacker, the soloist Pavel Dmitrichenko. By the time Filin returned nominally to work, his duties had already been subsumed into a more corporate, pragmatic structure de facto. His limited vision made compromises and job-sharing, of course, essential.
Urin grasped the chance for modernisation, but his opening words sealed the new position in the public eye as a downgrade, answering in a collaborative directorate to him, as general director (very like the Gergiev set-up).
He denied that he wanted to be a dictator. He insisted that regrettably Russia as yet could supply no equivalent creative figures today to the mighty Grigorovich and other such dominant choreographer-directors (in London De Valois, Ashton and MacMillan would come under that definition); ballet directors who had been dancers or administrators could not expect to command such unquestioned authority (and indeed the Bolshoi's unstable recent history – no fewer than nine ballet artistic directors in the 20 years since Grigorovich – is evidence of the gap in expectations).
Can Vaziev really have traded all the expected aspects of leadership simply to have the Bolshoi Ballet, perhaps briefly, on his CV?
So the Bolshoi ballet job, as he stated it, was something shrunken, by comparison with before. It was a downgrade in voice, with austere times and a current cost-cutting exercise further limiting the field of creative play – and presumably not a significant salary, either. And also a problematic career step, since Urin's own contract expires in 2018, and with the new job redefined as a junior in the general director's team, who would put money on surviving with a new general director who had other ideas?
Can Vaziev really have traded all the expected aspects of leadership simply to have the Bolshoi Ballet, perhaps briefly, on his CV?
I doubt it. Vaziev knows the old Russia and the new world. He is very well aware of the constant, disruptive parading of pretenders to the thrones, and he had no need to leave La Scala, where he is his own man (in Italian sunshine, too). He will have bargained from strength to protect both his authority with his dancers and choreographers of the world and his own professional security.
In his Monday interview he stated his artistic intentions, a good, rich, current, international stew of Petipa, Fokine, Balanchine, Forsythe and Ratmansky – plus, more idiosyncratically, his devotion to the "authentic" reconstructions of 19th-century Petipa classics that he first launched at the Kirov-Mariinsky some 15 years ago, but which failed to survive after he left St Petersburg for La Scala. The boldest of these, a semi-restored Swan Lake with much creative input from Ratmansky, will be La Scala's summer highlight next June. (On which point, see two theartsdesk interviews, with the Kirov's restorer Sergei Vikharev and with the Mikhailovsky Ballet's Mikhail Messerer, about problems with the original Swan Lake records.)
So, maybe the job is bolshoi, after all. The change in title might be better seen as a signal of a new, modern era in which unreal expectations and voodoo will no longer prevail. Urin, I'd say, is a master-psychologist, who knows how much words can mean.
Perhaps he sees the past 20 years of turbulence at the top of the Bolshoi Ballet as a re-enactment of the old Muscovite tribal ritual of Precedence, claimed by bloodline and macho display – a ritual which demeans it in the world's eyes as it insecurely sheds talented people in uproar every few years. Expectations set down on paper, continuity and stability, are more Urin's style. The agonisingly protracted labour contract he negotiated with the restive performers last year was more show than substance (in Alexei Ratmansky's judgement), but it was symbolically massive.
Urin has also signalled Filin's specific value to the company in terms of his talent, by publicly offering him a position directing a new Bolshoi choreography programme (which is the best potential guarantee of a healthy reproductive future and could generate significant autonomy of its own). He has also maintained that he wants Filin to lead the Bolshoi Ballet to London next summer. This would be a popular gesture in London – Filin's woes have captured so much sympathy over here. But Filin has yet to accept the olive branches.
As for Vaziev, Urin has also agreed that he can take his time to move over to Moscow, first overseeing his new Swan Lake next June, in his own triumphant finale in Italy.
It all appears wonderfully courteous and well-behaved, and who would have expected that two years ago? But stern tests lie ahead, which Vaziev may have to face without Urin. Filin's attacker, the dancer Pavel Dmitrichenko, will be released from jail before long, the supremely self-believing Bolshoi star Nikolai Tsiskaridze remains a rampant, well-backed challenger for Urin's job, and scenarios can easily be imagined that open up horrible wounds in two years' time. Moreover, Grigorovich is 88, and his legacy may well prove very tough for Vaziev, as a Petersburger. So after all, it's not less than bolshoi, the job – it's absolutely humungous.
Still, Urin, like Orpheus, has brought the music of order and pragmatic vision to calm the chaos. Let's hope that the Blessed Spirits are so quickly entrenched by 2018 that no matter who succeeds him, the sweet music will continue.