Mel Smith, 1952-2013 |

reviews, news & interviews
Mel Smith, 1952-2013
Mel Smith, 1952-2013
Remembering the star of Not the Nine O'Clock News and director of Bean
Mel Smith with Griff Rhys Jones
Mel Smith, who has died at the age of 60, will be principally remembered as one quarter of the satirical sketch show Not the Nine O'Clock News and one half of its blokier spin-off Alas Smith and Jones. A natural and inclusive comedian, it's less widely recalled that Smith also directed one of the most successful films in British movie history: Bean. As co-founder with Griff Rhys Jones of Talkback, he was also a pioneer in independent television production.
When they sold the company, Smith became a millionaire many times over.
He was always destined for a life in entertainment. The son of a greengrocer-turned-bookie, he grew up in Chiswick in West London and went to Latymer Upper, later attended by Hugh Grant, where he directed plays. At Oxford he read experimental psychology, joined the Oxford Revue and became president of OUDS. A production of The Tempest he directed at the Playhouse got him a job as assistant director at the Royal Court. After five years immersed in the profession he fetched up at the Young Vic and proceeded to lose his vocation.
"I had a rather unhappy year there," he told me when I interviewed him in 2007. "I didn't like the man who ran it, Michael Bogdanov. I thought he was an idiot and hated the way he sat around talking all the time rather than actually rehearsing. Drove me mad. It put me off theatre full stop." The day he resigned he informed his father that he was ready to take over the betting shop, only to get a call the next morning inviting him to join a new satirical sketch show. He remained intensely proud of his part in Not the Nine O'Clock News.
"The first series was ferociously attacked by all the press but in those days the BBC would trust you to have another go. It was when our first album went double platinum and knocked Queen off the top of the charts that you realised this was really popular."
Of the many sketches for which NTNOCN is remembered, his scene with Rowan Atkinson as Gerald the gorilla defined the show's flair for intelligence and absurdity. Smith had a face for comedy - dumpy and hangdog - framed by an unruly mane which compensated for a receding hairline.
He went on to work with Jones on TV in their long-running sketch show best loved for their face-to-face cod-philosophical dialogues,and with Atkinson on film. Their first collaboration was The Tall Guy. Written by Richard Curtis, it featured Jeff Goldblum as a luckless feed for Atkinson's monstrously egotistical standup performer. The fierce lampooning (Andrew Lloyd Webber also came in for flak) did not impact on their relationship: Smith was later hired for Bean after another director was fired. Atkinson knew and trusted his old co-satirist, and yet it was not an unmixed blessing.
"I directed Rowan's first West End show when he'd first done that character," he recalled, "but I was only a minor fan of the TV shows. I went in and did the job that I can do, which is to help them rewrite it and steer Rowan through it. It made the best part of 300 million bucks and funnily enough all I ever got after that were really stupid scripts about a man who wakes up and discovers he's a goldfish in a tank. Fair enough but that wasn't the sort of stuff I was interested in. It was nice to be part of a big hit movie opening worldwide and everywhere you went it was a real smash. I've got no regrets about that. In fact when I look at it now I think it's a pretty good piece of work given what it is. No, I enjoyed it. But it didn't necessarily open loads of extra doors. It was very strange to me."
He went on to make two more modest films – High Heels and Low Lifes and Blackball – but the finance dried up. "I don't think it could get much more difficult for me to make movies. It may just be that I'm just rather dull."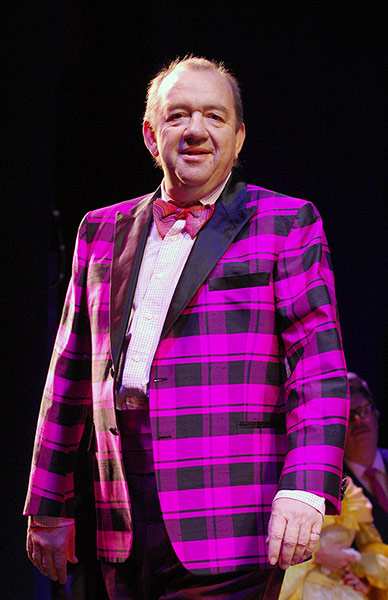 He went back to performing. He played Churchill in a play in Edinburgh then, after a gap of more than three decades (when he took over from Griff Rhys Jones in Charley's Aunt), he returned to the West End in the musical Hairspray. He played Wilbur, failed joke-store proprietor and father to a prodigiously fat girl who dreams of singing and dancing on a tacky TV show. A friend who was in it on Broadway urged him to do it: "You've got a great number in it, it gets an automatic encore." He was last seen on television as a hard-nosed hotelier in Stephen Poliakoff's Dancing on the Edge.
In his fifties he fell out of love with comedy. "I don't find very much that I find very good. There is a lot of attitude comedy which doesn't make me laugh." Of his comedy colleagues with whom he became famous, he remained in touch with Atkinson and Jones, less so Pamela Stephenson. "She did one of those two-month psychiatrist courses in Los Angeles, didn't she? The last time I saw her she was a little bit full of herself with me, as if we'd never been in a comedy show together. It's odd, isn't it?"
It certainly is. For those of a certain age Mel Smith will always hold a deserved place in the pantheon as part of a show which was as definitive as The Goon Show and Monty Python had been for previous generations.