Benedetti, National Youth Orchestra, Heyward, BBC Proms review – stirring sounds of change |

reviews, news & interviews
Benedetti, National Youth Orchestra, Heyward, BBC Proms review – stirring sounds of change
Benedetti, National Youth Orchestra, Heyward, BBC Proms review – stirring sounds of change
Strength and surprise on a revolutionary bill
The many and the one: Nicola Benedetti, Jonathon Heyward and the NYO
In a normal year, the National Youth Orchestra of Great Britain descends mob-handed on the Royal Albert Hall for a Prom that complements the sheer quality of the young musicians' work with joyful, raucous, roof-raising quantity. I recall a Turangalîla symphony in the other Olympic season of 2012 that rocked all Kensington with its heaven-storming, gold-medal exuberance.
This summer, with caution still the proper watchword, the NYO has built its admirable "Hope Exchange" programme into a series of steps into the musical future.
They begin with the members' personal dreams and ideals, and grow through school workshops into a handful of full-scale concerts such as this. Of course, the orchestra's forces can't yet match its pre-pandemic size for landmark gigs, although the 50-plus players sometimes spread around the stage on Saturday evening in no way sounded like some depleted remnant. Still, under conductor Jonathon Heyward's assured, even audacious, direction, the all-teenaged outfit had to showcase other virtues apart from mass exhilaration. They did so with an ambitious and wide-ranging menu of attractions, gathered around the Eroica symphony. It made us think about the rhythms of change and what they signify both in and beyond music – not only at the time when Beethoven scored his revolutionary invocation of a hero who turned out not to be named Napoleon, but today as well.
What hadn't altered was the NYO's ability to offset favourite large-scale pieces with commissioned work that gives a platform to its plentiful strengths. CHANT, by Mercury-shortlisted jazz composer and ensemble leader Laura Jurd, uses improvisation around a theme – introduced on kazoos, no less – to paint a sonic picture of togetherness evolving out of separate instrumental motifs via uncanny strummed strings, solo brass, and eerie arabesques in the woodwinds. The question of how the one relates to the many, my freedom to your fate, echoed across the hall, and the evening. Prokofiev's second, G minor violin concerto, written in the mid-1930s just as the composer returned to Stalin's Russia, also encodes a tussle between individual and collective will. Passages of spiky, sardonic polyrhythmic insolence yield to soaring lyricism of a seemingly more traditional kind. Except that with Prokofiev (as in Romeo and Juliet, which soon followed) you feel that, even on the sweet and tender heights, he has those "formalist" fingers crossed behind his back.
As soloist, Nicola Benedetti (pictured above) had the measure of all this, intently involved with the players around her rather than turning her back on them to strut like some old-school fiddle star. Heyward coaxed the NYO into some ravishing exchanges with the silver filigree of her tone. The glorious andante, as an almost jokey tick-tock Baroque motif answers the gossamer beauties of the violin melody, unrolled like fine silk threaded through with strands of bitter wormwood. I did, though, wish that we hearing this dialogue in a more forgiving venue for such a delicately-poised musical debate; details could blur. On to the pulsing, hobnailed-booted waltz of the finale, castanets and all, with Benedetti double-stopping like a hero as the band vigorously chucked in its droll, plebeian commentary on events. Heyward made sure they sounded playful and poignant all at once. He kept up the disciplined cohesion of sound that marked the evening – quite a feat for him, and them.
After the interval – yes, they're back at the Proms – Banner by composer Jessie Montgomery spun its subtly subversive variations on the US national anthem around iconic motifs from the music of African American, and other, communities. With a string orchestra set around, and against, a quartet, the piece – which grew from a commission to mark Barack Obama's presidency – cleverly mixed its melange of uneasily harmonising themes. This off-centred style of alternative Americana, woven out of musical shreds and patches forever on the brink of either fusion or fission, may bring Copland, Adams, even Ives, to mind. Still, in Banner Montgomery flies an eclectic flag of her own. Which led to Beethoven and his ultimate musical exploration of the individual will within, or against, a social frame.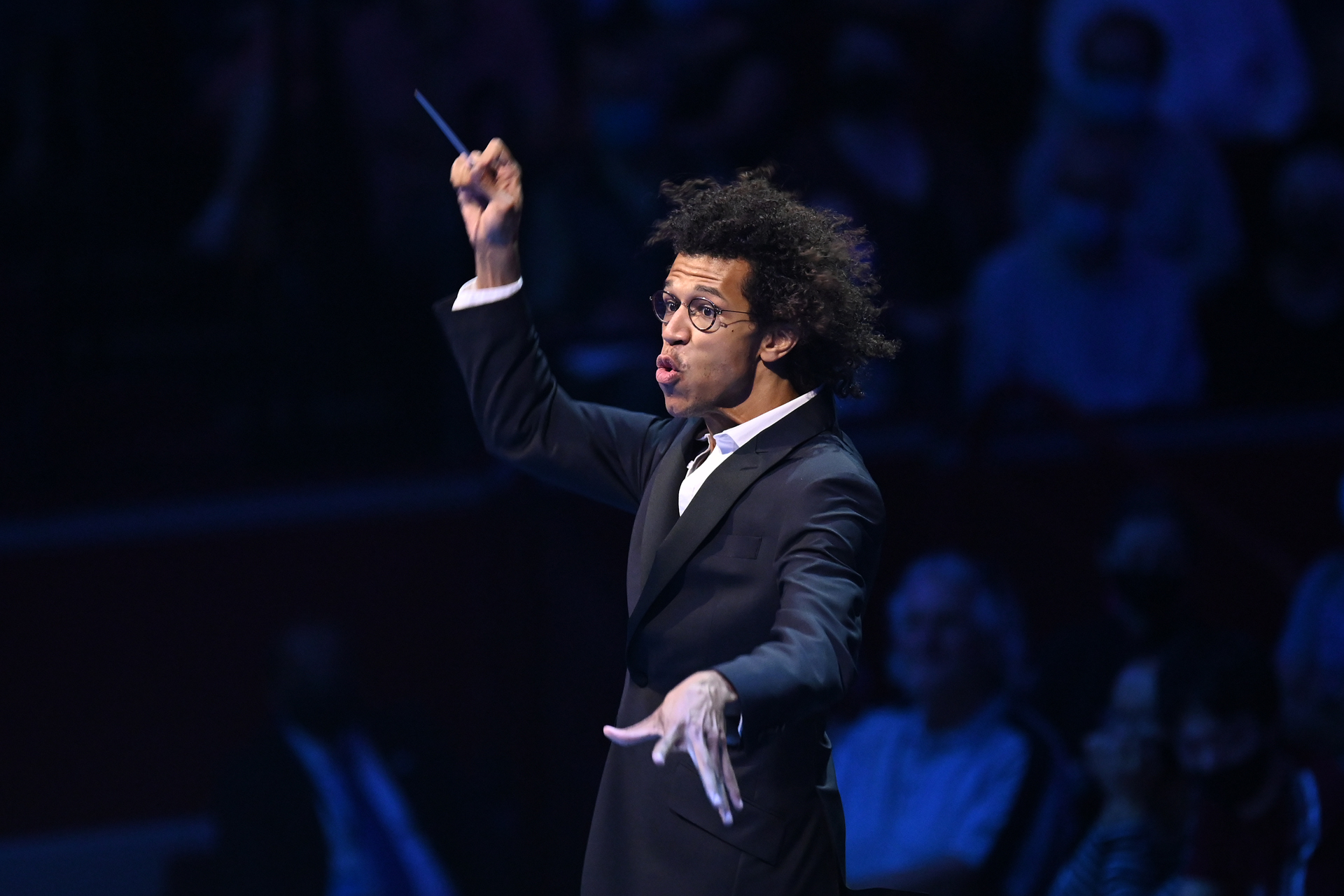 It's hard to imagine a tougher test than the "Eroica" Symphony for a youth orchestra disrupted by 18 months of emergency shutdowns. If not quite everything worked here like Prokofiev's neo-classical clockwork, the result moved, excited and most of all uplifted us. In the aftermath of such a crisis, we might have expected a bravura, headlong, in-yer-face Third, one that cast Beethoven's "revolutionary" breakthroughs in an extravert's fast and furious light. Yet Heyward played it cool. He let in sharp contrasts of light and shade, of frenzy and stillness, gravity and geniality. Here was no naive wham-bang stampede but a sophisticated reading that called for, and got, sophisticated playing at vital turning-points. Mellow, well-paced and balanced strings in the opening Allegro; suspenseful shifts in tempi both there and throughout; a refusal to rush or to shout: Heyward brought out the NYO's capacity for polish as well as passion. Firm, rich horns dazzled in the scherzo; oboe and clarinet and other woods added their nicely refined contributions; the funeral march rose slowly, even slyly, up its hill of mourning. Heyward wasn't afraid make us to wait, and to listen.
Again, I wished that, with the orchestra slimmed and spaced, the grudging acoustics of the hall had always rewarded this approach. But the RAH gives what it can: in the final variations, the slow-burn tempi, ambush-like dynamic shifts and thrilling tutti moments of triumph often paid a handsome dividend. Led with confident finesse by Kynan Walker, this NYO can command tight-knit elegance as well as wall-shaking exuberance. Not that it has lost its party spirit, as the rumbustious Bernstein-like encore – devised by the orchestra with composer Andy Paxton, and directed by the leader, not conductor – showed in a farewell burst of insurrectionary fun.
This NYO can command tight-knit elegance as well as wall-shaking exuberance
rating
Explore topics
Share this article