Balsom, Daniel, Poster, Britten Sinfonia, Stroman, Milton Court review – kinds of blue |

reviews, news & interviews
Balsom, Daniel, Poster, Britten Sinfonia, Stroman, Milton Court review – kinds of blue
Balsom, Daniel, Poster, Britten Sinfonia, Stroman, Milton Court review – kinds of blue
Virtuoso trumpet leads a journey through musical America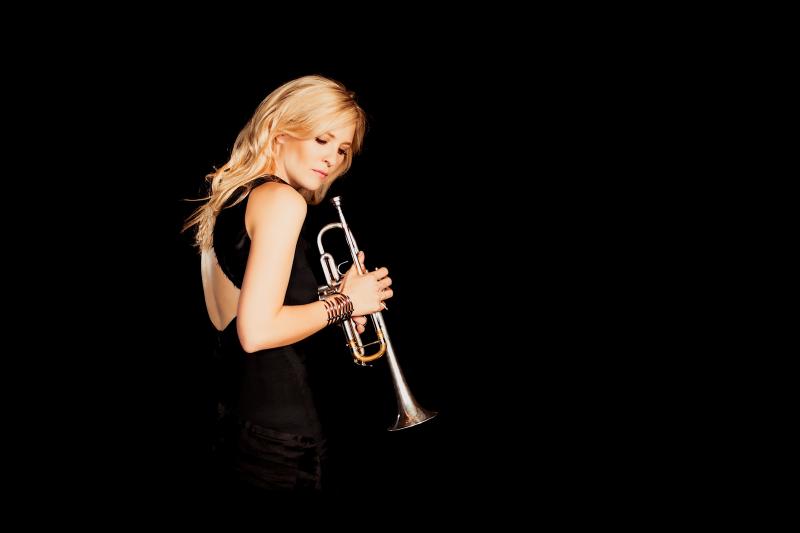 Horn of plenty: Alison Balsom
Where do you draw – how do you draw? – a credible line between jazz and "classical" music in 20th-century America? With the reliably boundary-busting Britten Sinfonia, trumpeter Alison Balsom mixed and matched works from different formal lineages in her packed programme at Milton Court, "An American Rhapsody".
From Stravinsky and Ives to Gershwin and Miles Davis, open-minded and big-hearted dialogue blossomed, led by the sure, sweet and versatile voice of her own "genre-defying instrument" – as she called it in one of the informal chats with conductor Scott Stroman that threaded the items together.
For good reasons, everyone seeks to break down redundant fences now. Balsom's spirited, sometimes spectacular, tour of American musical landscapes did just that through an enjoyable evening of bracingly different moods. But I couldn't help recalling that one of the composers featured – the belatedly-fêted Florence Price, two of whose pieces from Dances in the Canebrakes we heard in orchestral arrangements by William Grant Still – saw a value in keeping them up for a while. I recently asked pianist-musicologist Dr Samantha Ege, whose trailblazing work has helped bring Price back into focus, whether Price had much contact with the jazz giants in her home city of Chicago. She would have known them socially, Ege explained, but as an African American woman composer with a high sense of her own calling, it mattered to her to stand proudly in the classical tradition rather than slip over to the pop side. Curiously, Still's smart big-band arrangements did pull Price's dances – one an exuberant rag, the other dappled delightfully with what Jelly Roll Morton called the "Spanish tinge" – towards jazz.
Though the Britten Sinfonia had plenty of high-impact moments to come, they began with the hushed, contemplative pairing of Ives's The Unanswered Question and Copland's Quiet City. In both pieces, interrogatory solo parts – trumpet and flutes in the Ives, trumpet and cor anglais (a guest-star turn from Nicholas Daniel) in the Copland – raise soulful, doubting voices over the ambient shimmer of the strings. Maybe that idea of the individual instrumental wanderer, who breaks free from the enveloping ensemble in cadenza-like excursions but then merges back into it, united this American Rhapsody and helped its disparate elements to align. After the Price dances came Balsom's take on the Miles Davis Concierto de Aranjuez: Gil Evans's inspired arrangement of Rodrigo's piece, but further modified by the supreme individualist Miles on Sketches of Spain. Where does the essence of this infinitely haunting music lie? In the recording, in Evans's manuscript score – Stroman explained that it does exist, although it changed in the studio – or in exact transcriptions of the sounds captured on disc? Stroman called this version a "recomposition" not a recreation, and assured us that, if the music we heard didn't sound exactly identical to Sketches of Spain as recorded in 1959-60, "it's not because we haven't thought about it".
All that hardly counted once the castanets ushered in Balsom's trumpet and it began to sing: not quite like Miles, for no one expected or wanted mimicry of his smoky, ghostly tone, but with a rounder, fuller voice offset by the ever-changing textures of the orchestration. If this Concierto seemed to blossom more in sunlight, rather than Davis's veiled twilight, brass and woods still summoned quicksilver shifts of mood while bass, harp and and drums held a firm, pulsing line. Stroman led the band into some electrifying tutti climaxes. Meanwhile, Balsom never tried to ape the elusive, almost-cracked plaintiveness of the original, but played with a cantabile tenderness and grace.
We probably needed the interval that separated the shade of Miles Davis from two pieces from John Cage's late-1940s Sonatas and Interludes, arranged by Callum Au. The work's eerie circular figures with their sly, hypnotic syncopations – rooted in Cage's immersion in Indian rasa aesthetics – nonetheless hinted at a rhythmic kinship with the rest of the evening's American fare. As for Stravinsky's Concerto in D for strings, written in Hollywood in 1946, Stroman and his orchestra [pictured above by Benjamin Ealovega] gave its perky and ebullient neo-classicism a droll, sassy edge, from the cheekily lush string parts in the opening Vivace to the surprisingly bouncy lyricism of the Arioso.
The evening ended fittingly with Gershwin's Rhapsody in Blue in a new arrangement by Simon Wright (remember that the often-transformed landmark finally went out of copyright last year). Although Balsom described it as "still a piano concerto", Tom Poster's rippling, dancing keyboard inevitably found itself in a supporting role to the trumpet. Balsom shone right from the liquid opening riff that we usually hear from a gurgling clarinet (although even that signature intro was a late addition by Gershwin). Stroman gave the orchestral playing a jubilant, kinetic drive; Balsom delivered some subtle, even romantic tonalities of light and shade as well as passages of soaring, show-off brilliance. At moments, perhaps the Milton Hall acoustic packed too much of an ensemble punch, and the balance of band and soloist went a little awry, but not for long. The brass strutted and swaggered gloriously (respect especially to Jonathan Stokes's and Pete North's trombones) while Nicholas Daniel's oboe anchored attractively-accented woods. Stroman paints with a richly varied palette of big-band sounds, although his episodes of full-blast fortissimo could truly wake the dead of 1920s Manhattan. In a nice closing touch, Balsom and the orchestra's encore drew a circle around the programme in the form of Kurt Weill's "My Ship", again in Gil Evans's version for Miles Davis. It returned us to the wistful, even solitary feelings that shadow all that Stateside pizzazz, whatever label you choose to put on it.