Ali Smith: Spring review – green shoots, dark fears |

reviews, news & interviews
Ali Smith: Spring review – green shoots, dark fears
Ali Smith: Spring review – green shoots, dark fears
A vernal journey takes current events and ancient myths out for a Highland spin
A world beyond Brexit: Ali Smith
Stopped in the street for a vox pop by a BBC interviewer keen to "fill your air" with strife and bile, a character in Spring retorts that "there's a world out there bigger than Brexit, yeah?" Newshound critics, take note. The symbolically named Brit (short, originally, for Brittany) works as a guard at a migrant detention centre.
In its hellish corridors, people driven by suffering, abuse and terror out of regions much less favoured than navel-gazing Europe endure routine contempt and cruelty in a "kind of underworld", a "place of the living dead". As in the two preceding volumes of Ali Smith's seasonal quartet, mythology and topicality – headlines and legends – intertwine. Her fiction always seeks, and frequently finds, that sweet-sour spot where the timely and the timeless meet. Another of Smith's principal figures here is a fondly-remembered film-maker who made her maverick name with "experimental docudramas". Maybe we should look on Smith's seasonal sequence – now three-quarters of its way through its year, with only
Summer
to come – as a similar sort of creature. Tied to the moment of publication, each volume is also steeped in faraway flavours of poetry and fable.
Like Autumn and Winter before it, Spring weaves several strands of plot into a free-form, parti-coloured story that aims for (and achieves) pace, surprise and urgency rather than the polished omniscience of a done deal and a closed circle. Brit, a smart young Everywoman nonetheless prone to the knee-jerk suspicion of incomers and outsiders that our cultural climate and her dismal job permit, finds herself caught up (like the rest of Spring's cast) in "an effing fairy tale". As does Richard, a washed-up and despairing TV director who harks back to his creative collaborations with the Irish-born free spirit Paddy (aka Patricia Heal: one more emblematic moniker). Richard and Brit meet on a journey through the Highlands of Scotland in a beverage-less coffee truck driven by a Gaelic-speaking activist named Alda Lyons (say it), who spirits paper-less refugees to safety as part of an "underground railroad" network. A magical twelve-year-old named Florence accompanies them. A sort of apprentice sorcerer (and undocumented migrant), Florence seems to command the occult power to liberate locked-up asylum-seekers or trafficked girls from bondage. Like "someone… out of a legend or a story", this bewitching sprite "makes people behave "like they live in a better world". Smith has acknowledged that the redemptive fantasies of Shakespeare's late romances shadow the whole quartet: in Winter, it was Cymbeline; here, Pericles, Prince of Tyre, with its lost-and-found daughter Marina. Long ago, Richard has lost his real daughter to family break-up; now he converses with an imaginary surrogate. Until the fairy-like "Florence", her very name an avatar of spring, arrives.
Consciously rough around the edges, though deeply artful in their underpinnings and their overtones, Smith's "seasons" novels aspire to sound like works in progress. They interrogate the woefully unfinished business of the way we live, and dream, now. In Spring, a sort of choric prelude summons our era of "outrage offence distraction", in which "We need emotion we want righteousness we want anger". Into this polemical wilderness of fury and division, Spring seeds ideas and images of hope and rebirth, of "green shoots" pushing through dry rock, and new life pulsing through ruin and waste as "The flower heads open all over the flytip". Smith composes slangy but sensual prose that feels at once ancient and modern. Demotic, street-smart, up-to-date in her allusions, she also mines with glee a tradition of nature-poetry and myth that runs from the Greeks to Eliot and Rilke. Meanwhile, she nods to the airborne artworks of Tacita Dean, with their other-wordly imagery of "alchemy and transformation".
Sometimes her symbolic pieces fall into suspiciously neat patterns – as with a showdown that involves security staff from Brit's "Immigration Removal Centre" running amok on the battlefield of Culloden, where imperial Britain slaughtered the Jacobite clans in 1746. The chorus-like voice we hear at intervals deplores the tribal spite that, then and now, splintered the island of Britain. Spring laments the "carnage" that ensues "when one side of the road takes what it calls control". But of course Smith and her readers know on which side they stand. Beyond the tabloid slogans half-heartedly parroted by Brit, Spring can't really reach out across our entrenched battle-lines. That's hardly Smith's fault – but you do wonder if any British writer now could speak as Charles Dickens (whom she cites and honours) did across the chasms of culture to touch those people swayed by the "crusader rabble-rousers" of today.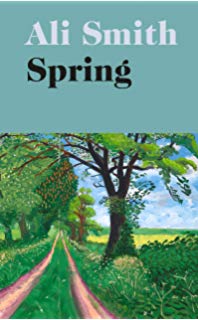 Mystical and satirical, lyrical and vernacular, Spring shows off the brilliant dexterity with voice and tone that always lends Smith's writing such a – well, a spring in its step. "You've always been talented at the seeing of voice," Richard recalls his mentor Paddy telling him. Same goes for his creator, in brisk, jagged but eloquent pages of dialogue. They may sound like the literary counterpart of hand-held camera shots but also channel the avant-garde fiction that Smith knows and loves: not just the Beckett-to-Kelman tradition but (I would surmise) the mistresses of the French nouveau roman, such as Marguerite Duras and Nathalie Sarraute. As a bard of grieving and rebirth, Rilke also duly plays his part, as do the adventures in life and art of Katherine Mansfield – a writer "courageous beyond belief" in her own defiance of norms. However, a drearily elegant extract from a novel about the meeting of Mansfield and Rilke in Switzerland (which Richard has been asked to film) parodies the sort of mimsy, strangulated "literary fiction" that Smith avoids.
Smith signposts her "fairy story" and "folk tale" elements with blazing clarity. Readers who like their fictional myths served up in a subtler sauce (as by her great fellow-Scot, Muriel Spark) may find that these peppery hits of parable can sometimes overwhelm the palate. Then again, no writer has grappled with the "panic" and "bewilderment" of Britain (and the world) just now with more attentiveness, inventiveness and integrity. Even more so, perhaps, than Autumn and Winter, Spring keeps up the improvised and provisional mood of the quartet. We end in the transitional space of April, that "month of sacrifice" but also "month of playfulness". Warmth and chill, hope and fear, still do battle through Smith's pages. Roll on Summer.
Spring by Ali Smith (Hamish Hamilton, £16.99)
Smith composes slangy but sensual prose that feels at once ancient and modern
rating
Explore topics
Share this article